Let's Talk: The debate about school uniforms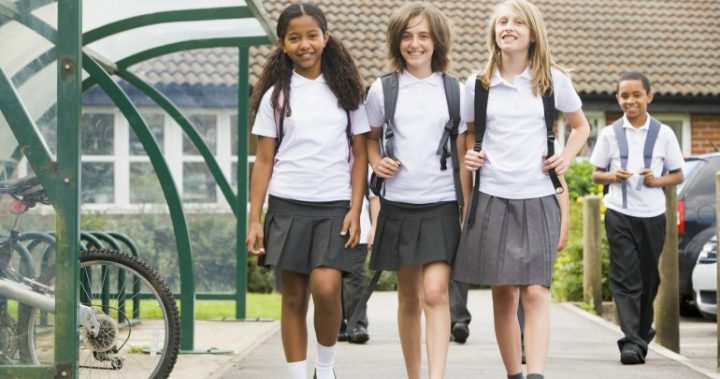 First there was the debate about whether kids should wear uniforms to school, now there's another debate about uniforms and it's dividing opinions on the internet.
A university lecturer has penned an article for The Conversation, questioning why girls are still made to wear skirts and dresses to school.
Queensland University of Technology senior lecturer Amanda Mergler  writes that for some parents "requiring girls to wear skirts and dresses to school" is an "outdated expectation that amounts to gender disadvantage and discrimination".
Yes, that's right… some people are linking the wearing of skirts and dresses to gender disadvantage and discrimination.
Mergler points to studies that show skirts and dresses "restrict movement" during physical activity and "inhibit a girl's ability to participate in sport".
Ad. Article continues below.
"A study conducted in one Australian primary school in 2012 found that girls did significantly less exercise over a two-week period when wearing a school dress than they did when wearing shorts," she wrote.
"While expensive education and awareness campaigns may encourage more girls to engage in sport, a simple change to what they are required to wear to school could have a far greater impact."
She also points to "wordy and wish-washy" education policy that requires school student dress codes in Queensland to offer gender neutral uniform options for all students.
"Principals and parents may be confused by the language used in policy documents, and can conclude that allowing flexibility for students who request "special circumstances" is enough," she writes.
"When this occurs, it is highly likely that most school children will continue to wear the same uniform as the majority of their same-sex peers, as fitting in is crucially important for children and adolescents. This means girls will likely continue to wear skirts and dresses.
Ad. Article continues below.
"While principals may be open to allowing "special circumstances", it could be argued that the right of girls to wear shorts to school needs to be a given, and not a privilege that needs to be argued for in each individual case."
Thought you've read it all?
Wait… there's more.
Mergler points to advice from the Victorian Equal Opportunity and Human Rights Commission that suggests schools could face legal challenges over making female students wear dresses and skirts.
"To date, there has been no reported case of a school having to remove its requirements for girls to wear skirts and dresses as their only option in order to align with Education Department policy. But the desire for change is growing among parents," she writes.
Ad. Article continues below.
"Will a school need to face legal action before all schools move to have uniform policies that allow girls to be as comfortable and free to move as the boys sitting beside them?"
Remember when you just wore your uniform and didn't complain about it?
Do you think there should be gender neutral uniforms? Or should students be given a choice?