Let's talk: Should schoolies be banned?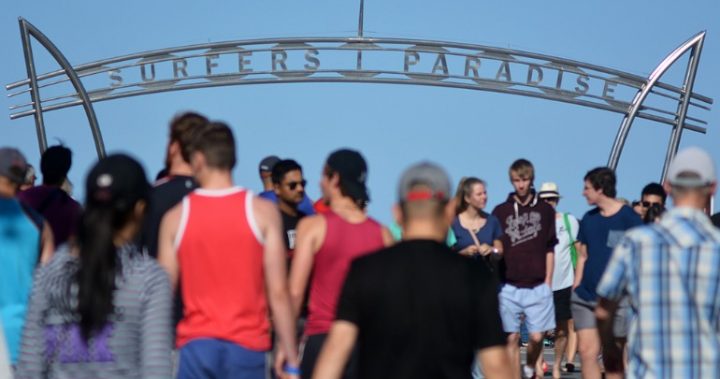 It's that time of year again; thousands of year 12 students around the country have headed to the coast to celebrate the end of exams and party hard for a week and fun and freedom.
But once again it appears some have already taken it too far with police confirming drug related arrests, underage drinking, fights and dangerous behaviour.
Overnight a video was released showing a teenage girl walking on the wrong side of a balcony ledge on one of the Gold Coast's many high rise buildings.
Her friends watching on and filming can be heard saying "This isn't going to be funny when she falls," while the girl jokes around and walks dangerously close to the edge.
Ad. Article continues below.
Of cause this kind of behaviour isn't new to schoolies; in 2012 a 17-year-old girl tragically died after falling from a balcony in Surfers Paradise.
So why haven't the kids learned anything from their predecessors and is it wrong to encourage them all to head off for a week of wild partying every year?
While the majority of the teens who go to schoolies stay safe and are responsible to a certain degree, in such an intense environment it's easy for things to quickly get out of control.
Another problem that has been quite an issue for police this year is the number of 'toolies' (older party-goers who are in their 20s and beyond) showing up at schoolies events and supplying drugs, starting fights or causing a nuisance.
While the kids who go to schoolies all deserve a well-earned break after slogging it through a tough year of schooling, is it time we find a new way for them to celebrate?
Ad. Article continues below.
There are a number of organisations in place to help keep them safe while they are at schoolies, but every year hundreds of teens slip through the cracks and end up injured, sick or worse.
There are calls from some to change things up before it's too late and someone else is tragically killed, while others say it's up to the kids to decide how they want to celebrate.
What do you think?
Should schoolies be banned? Or do we just have to accept that sometimes bad things will happen at schoolies?