Let's Talk: Should children be banned from restaurants?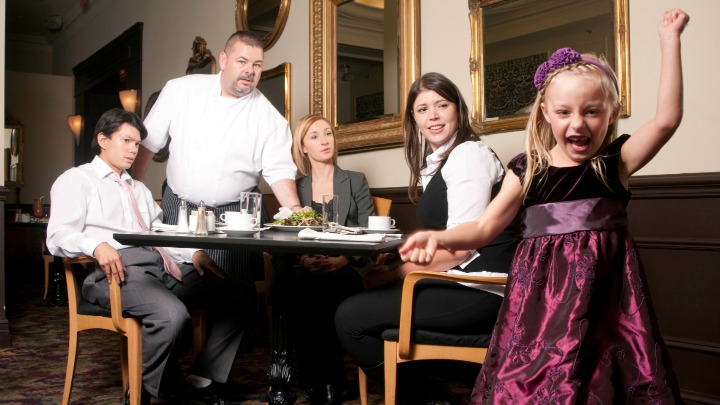 It's your fortieth wedding anniversary. You've planned the night for months, and picked a restaurant that you've always wanted to try. New clothes, hair done. You take your site, order your favourite wine. Glasses clink, and you begin to reminisce about all the wonderful things you've done together. It set's to be a wonderful evening.
Then out of the blue two tables over, 'Kidageddon' erupts. A child has the tantrum to beat all tantrums, and the entire restaurant's night has changed.
Has something similar ever happened to you? Do you think kids should be banned from restaurant?
First, to take the no side, kids will be kids. They don't play up all the time, but at their tender age they just don't have the tools to contain their anger at times. And it might not be a tantrum in the above scenario, it could just be them being happy… with extreme and loud exuberance.
Or, you might be of the opinion that children should be seen and not heard. Can you really expect these easily excited little people be angels all the time?
Ad. Article continues below.
Second, the parents side. They might not have been able to organise a babysitter. Or they are looking to socialise their children. These opportunities to teach kids how to behave in all sorts of places can be crucial to how kids grow up. Also, it's a special night for them too, all the family out together. Remember, it's not their ideal night either when a child loses it.
Next, the restaurant owner and staff. I'll bet they don't look forward to a room full of unhappy patrons, food all over the place, and the possibility of broken crockery and glasses. Or is it a restaurant that advertises itself as family-friendly? Perhaps this is something for you to look at when you pick where you're going to eat out.
Lastly, there's you. Yes, you do deserve to have a nice night out. If this happens, perhaps you could finish early, and head to a cocktail bar, or, if still hungry, grab some street food and head to a scenic spot.
The world is your oyster, and disruption aside there are a lot of ways to make a night out special.
Kids gone wild is not a fun night out for anyone. Have you ever had a night made unpleasant by kids being kids? What did you do? And do you want children banned from restaurants? Let us all see what you think in the Comments section.