Let's Talk: Is this show ruining the sanctity of marriage?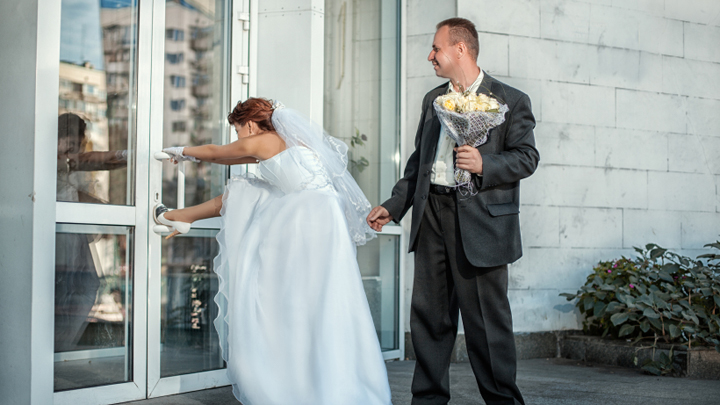 Last night, one of this year's most polarising shows so far aired on Channel Nine. Married at First Sight has divided viewers over its premise before it was broadcast, but what is the big deal? Well, complete strangers are being married on TV and it's unacceptable to some. Some are saying it's destroying the sanctity of marriage and insulting gay couples who want to be married but can't in Australia.
So what happened on last night's episode? Well, exactly what you'd expect from a show built on no love whatsoever and a whole bunch of confused family members.
It was yet another reality show, packaged up in ads as something so controversial and ridiculous, but it actuality it was just as bland a concept as any dating show ala The Bachelor.
None of the relationship experts were really that impressive and didn't seem to be able to match the soon-to-be-wed couples with any sort of precision.
The first episode's contestants were your typical unlucky-in-love people – desperate and dateless women and eternal male bachelors in their mid-late 30s.
Ad. Article continues below.
Don't be fooled: this may have been shown to be reckless abandonment of dignity, but Married at First Sight was nothing more than a sped-up version of Perfect Match.
So what were people so up in arms about? Here's some of Twitter's best responses:
Watching #MarriedAtFirstSight was the worst thing to happen to me today and I was admitted to Hospital

— Geraldine Hickey (@geraldinehickey) May 18, 2015
Gay marriage is Illegal, but we're happy to let idiots marry strangers & broadcast it on Tele. Good one Aus. #MarriedAtFirstSight #pathetic

— Andy Thomson (@ATGThomson) May 18, 2015
Ad. Article continues below.
Wow. The first two couples #MarriedAtFirstSight couldn't have been any different. I thought Clare was going to take off during her vows.

— Carl Naessens (@NZBred) May 18, 2015
#MarriedAtFirstSight DUMB! STUPID! DESPERATE! And I don't mean the contestants, @Channel9

— Neil MacKinnon (@ItsNeilMac) May 18, 2015
Ad. Article continues below.
Possibly the worst part of all of this is that the couples in fact are not legally married and it is just a glorified, fake arrange wedding ceremony for our enjoyment/horror.
Tell us, do you think that Married at First Sight is ruining marriage? Or is it just a bit of fun and each to their own?