Let's Talk: Is this school kids' political street art okay?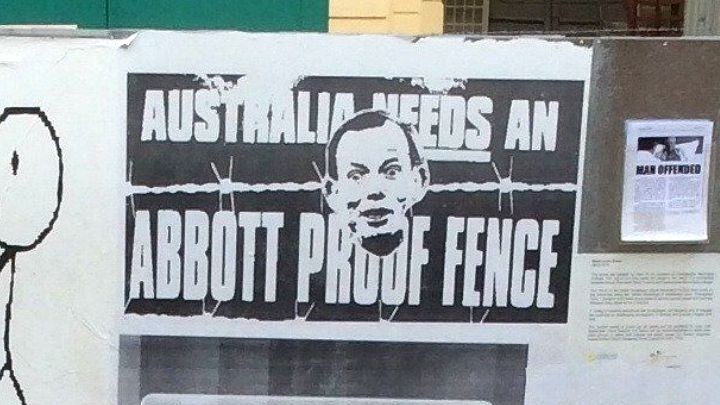 The students and principal of a high school in the Victorian goldfields are stunned by the strong public response to an art project. Castlemaine Secondary College runs a Street Art class for Year 10 students, in which they research the evolution of the art form, its impact on society and the styles used.
Students are free to discuss their political views and transform them into art, if they choose.
But one of the works, pictured above, has provoked scathing reviews. It was commissioned by the Mount Alexander Shire Council and installed in March on temporary hoardings opposite the public library in Castlemaine. The artwork includes an image of the Prime Minister with the words, "Australia Needs an Abbott Proof Fence".
A Change.org petition was launched calling for the school to "Apologise For The Disrespectful "Street Art" Displayed In The Streets". it has garnered 230 signatures at the time of writing.
The petition reads: "It is horrifying that Castlemaine Secondary College and the local Castlemaine council have allowed and encouraged our young people to display Anti-Abbott artwork on the streets. The fact that the students were allowed to publicly shame our leader like this is disgusting. Left wing bias in the education system is becoming a huge problem. We the people of Australia demand a formal apology."
Ad. Article continues below.
School principal Mary McPherson told New Limited she was shocked by the response. "We want our students to have opinions and be critical thinkers and to understand about the world. We want students to be prepared to make a difference. We don't want them to come out compliant, but to challenge and question."
A counter petition calling for people to support the students has gathered around 700 signatures.
But critics say schools are no places for politics. Supporters of the petition say the artwork is "disgusting" and that "education needs to be apolitical". "Shame on your teacher and your school!" says one, "Schools are not for POLITICS … Teachers need to keep their own views to themselves," says another.
Let's talk: do you think it's acceptable for 16-year-old students to display political artworks?