Let's talk: Is this cartoon racist?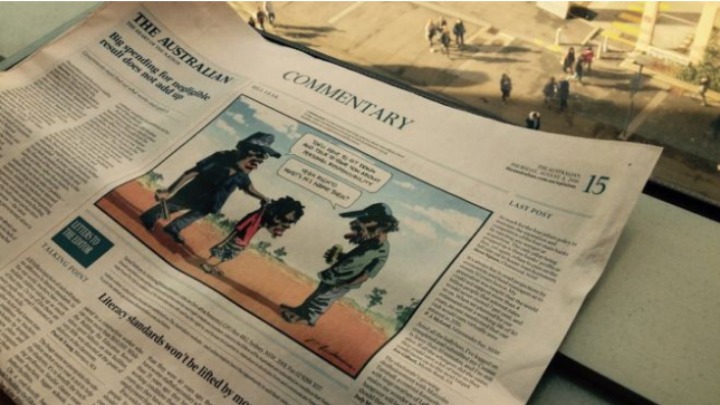 The Australian has earned a reputation for publishing satirical cartoons that push boundaries and commentate on current affairs.
While they usually draw a giggle, it's latest cartoon has done anything but, causing uproar from many who have accused the paper of blatant racism in a cartoon depicting a police officer, and Indigenous father and his child.
Indigenous Affairs Minister Nigel Scullion has slammed the paper, saying he is appalled they published it.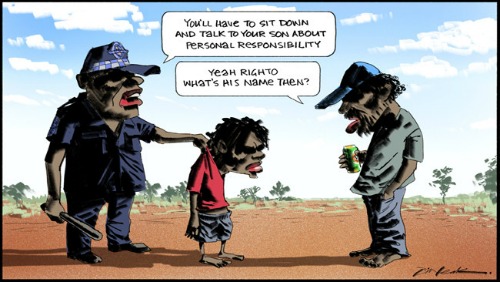 "Although Australian cartoonists have a rich tradition of irreverent satire, there is absolutely no place for depicting racist stereotypes," Mr Scullion said, reports ABC.
Ad. Article continues below.
The Australian editor-in-chief Paul Whittaker stood by his paper though, citing comments made by Indigenous leaders this week, including Noel Pearson on Lateline who said:
"Blackfellas have got to take charge and take responsibility for their own children. That part of the message really struggles to get traction."
In his statement, Mr Whittaker said: "The Australian is proud of its long-standing and detailed contribution to our national debate over the crucial issues in Indigenous affairs.
"The current controversy over juvenile detention in the Northern Territory has lifted these matters to the forefront of national attention again.
"Bill Leak's confronting and insightful cartoons force people to examine the core issues in a way that sometimes reporting and analysis can fail to do."
The cartoon has divided readers with some seeing the funny side and others saying they were shocked to see that kind of content in one of Australia's leading papers.
What are your thoughts? Is the cartoon racist? Or is it just satirical fun?