Let's Talk: Is it fair to bring quads into the world at age 65?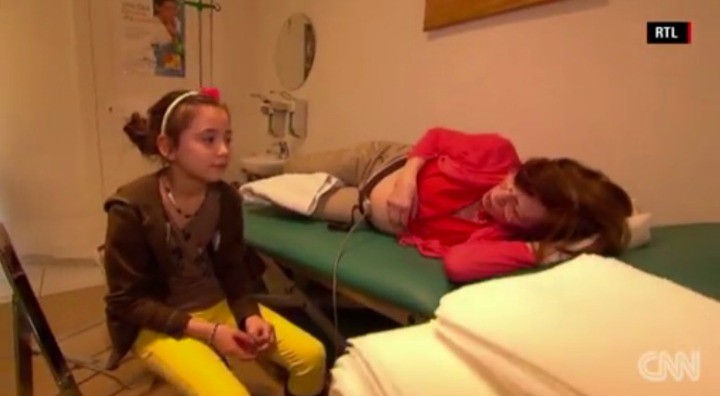 The pregnant German grandmother we wrote about here has given birth to her four babies at age 65. The quadruplets were born at 26 weeks gestation and are in incubators with "a good chance of surviving", according to doctors. Annegret Raunigk conceived the babies via in vitro fertilisation (IVF) in Ukraine, allegedly because she wanted to give her 10-year-old daughter Leila (pictured above) a younger sibling.
Ad. Article continues below.
Today, Leila has three new brothers and one baby sister who face an uphill battle in terms of their health. The smallest weighed just 655 grams at birth, the largest 960 grams, according to RTL, the TV station that covered the pregnancy. The newborn's names are Neeta, Dries, Bence and Fjonn.
Ms Raunigk already has 13 children, plus seven grandchildren, and her pregnancy has sparked furious debate about the ethics of conceiving via IVF over a certain age, let alone having four babies at once. One doctor apparently tried to persuade the German mother to abort one or two of the foetuses but she would not consider it.
"I'm not actually afraid," she told a magazine, "I simply assume I'll remain healthy and fit. In matters of organisation I have enough experience, that's not new for me," she told a German tabloid magazine.
When we first raised this story, many of you let us know there is no way you'd consider becoming a mother in the same year you plan to retire – Ms Raunigk has just ended her career as a teacher. And as for having four babies to look after on your own – no thank you!
But today we want to talk about the lives of the four tiny children born to the oldest woman to give birth to quadruplets. Is it fair on them to be brought into such an uncertain world, with a mother who will be in her late 70s as they hit their teens? Share your thoughts!