Let's talk: is it better to fight violence with violence, or kill them with kindness instead?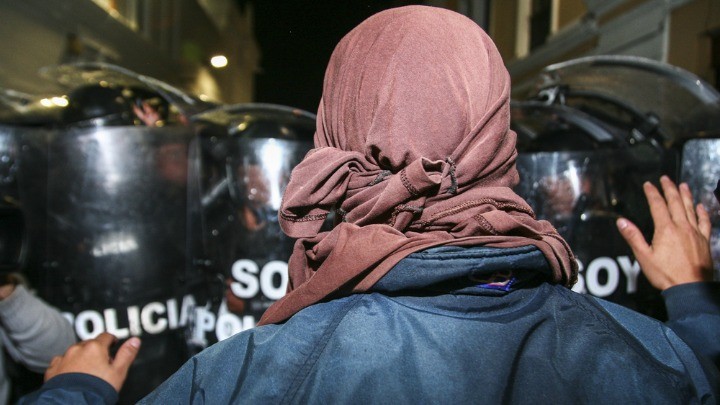 It's the age-old argument that is yet to be answered: should we meet violence with violence, or is it better to react with understanding and a level head.
The argument can be applied to any case and has divided people around the world for centuries.
If someone steals your park should you get out of the car, shake your fist and yell at them, or should you accept it and drive away?
If a child is getting bullied, should they fight back or take the high road?
If terrorists attack a city should you respond by attacking them back, or should you show restraint and find a diplomatic solution?
Ad. Article continues below.
One of the most obvious cases for this argument today is around the influx of refugees to different countries all around the world.
While the majority of refugees are hard-working citizens who have never been involved in a terrorist act or a crime, many of them are being painted with the same brush as extremists and are faced with hostility and contempt the minute they land in a new country.
There are fears they will not assimilate and will breed ideas of extremism or even bring terrorism to our shores.
Some people are pointing out, however, that the more contempt people are treated with, the more likely they are to feel dissatisfied and turn to anti-social behaviour to deal with these feelings.
If we welcomed refugees with open arms and treated them with kindness, would we be more likely to have a friendly integrated society than if we treat them with contempt?
Ad. Article continues below.
Some people argue that the world would be a better place if we treated each other with kindness rather than fighting and tinking on our differences as a negative thing.
They say the answer to a better world is to react to violence with a diplomatic approach instead of fighting back.
It's a concept that applies to many situations and can be argued either way. So it there a one size fits all answer, or does it depend on the circumstances?
Today, we want to know your thoughts on this issue.
Should we respond to violence with violence? Or, should we take the high road and react with kindness instead?