Let's talk: have we lost respect for our servicemen and women?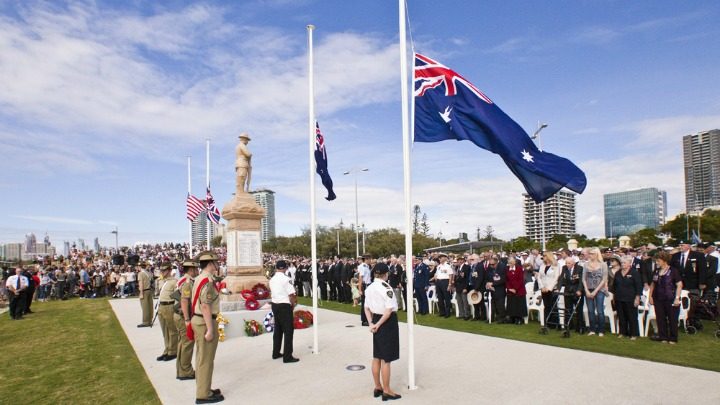 It used to be that men and women who had served in the Australian military were treated with respect and appreciated for all the sacrifices they had made to protect our country.
Some of that respect seems to be lost on today's youth though, as highlighted in the horrific attack inflicted on a navy officer on a Sydney train yesterday afternoon.
The young man, who has asked not to be identified, was travelling home with his girlfriend after marching in the ANZAC parade in the city when he was set upon by a group of drunken youths.
The navy officer and his girlfriend were sitting in a packed carriage with families and other veterans when a group of drunk men and women hopped on board.
They were allegedly shouting and swearing and making fun of war veterans and ANZAC Day.
Ad. Article continues below.
Speaking to SMH, the navy officer's girlfriend said he turned around and asked them to stop swearing and show a little respect to everyone else on the train.
Minutes later he was king hit square in the face.
"I'm surprised he wasn't knocked to the ground because it was a king hit," Emma Novotny said.
"We thought he might have had his tooth knocked out because there was a lot of blood coming out of his mouth, but it was just his nose."
The event no doubt shocked the young families on the train and upset the other war veterans on board who were shocked to see an officer targeted like that.
Ad. Article continues below.
It follows the revelation that thousands of young Australians uploaded photos to social media yesterday using the hashtag 'Less we forget' instead of the correct 'Lest we forget'.
Critics have hit out saying many young people don't understand the importance of the sacrifices our ANZACS and war veterans have made.
They say people are using ANZAC day as an excuse to have a day off work and get drunk at the pub, without really showing respect or being thankful for those who served in the military.
Ad. Article continues below.
Others though, say it's not that big of a deal and we can't expect today's youth to have the same connection to servicemen and women as baby boomers do.
What are your thoughts?
Is the spirit of ANZAC Day lost on today's youth? Should we be teaching them to show more respect for our servicemen and women?