Let's talk: Do we need to do more for Indigenous Australians?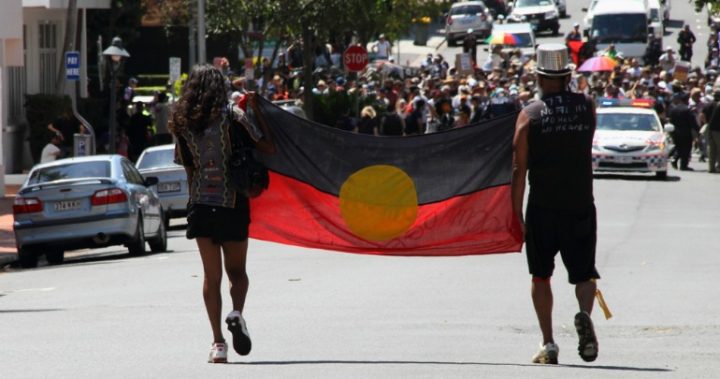 A distressing report released yesterday has revealed that for many Indigenous Australians life has only got worse over the past two years.
The 'Overcoming Indigenous Disadvantage' report shows that over the past 15 years the rate of imprisonment for indigenous people has increased 77 per cent, and while the youth detention rate has decreased it is still 24 times higher than non-Indigenous youth.
Worse still, hospitalisations for self-harm has jumped 56 per cent over the past decade, while family and community violence remain high at 22 per cent.
So what are we as a country doing about it and should we be doing more?
There has been much talk about Indigenous Australians over the past few years and what can be done to help improve their quality of life and curb family violence, but by the looks of things in this report not enough has changed.
Ad. Article continues below.
Indigenous woman and Alice Springs Councillor Jacinta Price spoke at the Addressing the National Press Club in Canberra yesterday and told the audience in harrowing detail about her own experience with family violence.
She told the story of a male family member who flew into a fit of alcohol-fuelled rage one Christmas.
"It escalated to the point where my father ordered the man to leave our family home," Jacinta said.
"As he left, he took a fistful of his 18-month-old son's hair and lifted him by his scalp until his arm was fully extended to the side of his body.
"He flung the toddler about in front of us all, including his 3-year-old daughter. He threatened to kill his son if his wife continued to disobey him.
Ad. Article continues below.
"I remember the blank look in the boy's eyes. He didn't cry out. He dangled silently from his hair."
With stories like this happening all over the country in Indigenous communities, should we be doing more to help?
Ongoing debate around people living in remote communities has caused friction over the years, with former PM Tony Abbott memorably being slammed for his comments that taxpayers shouldn't have to fund those living there because it was a lifestyle choice.
Much of the difficulty around this issue comes from the vast divide between Indigenous people wanting to hold onto their heritage and politicians trying to drag them into a different way of life.
So how can we bridge the divide and make sure Australia's Indigenous people are given the best opportunities? And do we need to step up our game and do more to help?