Let's talk: did Waleed Aly overstep with Julian Assange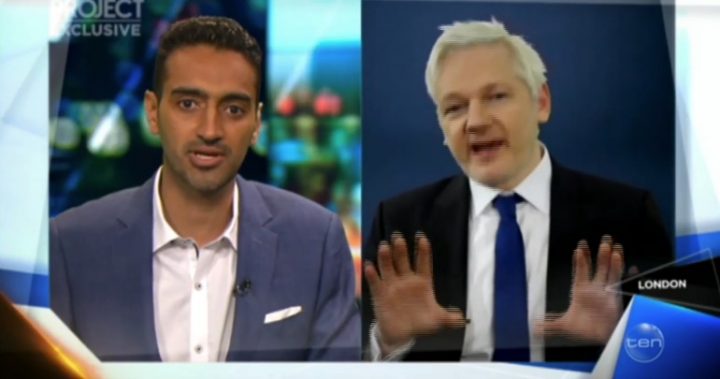 It was another night of heated debate on The Project last night with Waleed Aly clashing with Wikileaks founder Julian Assange.
The pair went at it over Assange's promise to agree to be extradited to the United States if whistleblower Chelsea Manning was released.
Barack Obama granted Manning clemency in his last days of office much to the surprise of many. The move was said to be a ploy to get Assange back to the US to face charges over the mass leak by Wikileaks of military intelligence in 2010.
Now though, it appears Assange is backing out of his promise, saying the issue is more complicated than people are making it.
Aly was having none of it and took Assange to task throughout their interview.
Ad. Article continues below.
"So when you said you would leave the embassy if Chelsea Manning was granted clemency it sounds like what you really meant is you will leave the embassy if you can come to terms with them about your case — nothing really to do with Chelsea Manning," shot Aly.
"I didn't say that, I didn't say that," Assange quickly replied. "I said I would accept extradition to the United States."
"I don't understand why now it seems contingent on striking some kind of deal with the United States about their case against you, you didn't mention that before," Aly probed.
"Because I'm not an idiot! I'm not a complete idiot!" Assange yelled back.
"We had a major strategic victory in liberating Chelsea Manning, the most significant alleged whistleblower in the last 10 years, but of course saying I'm willing to accept extradition doesn't mean I'm saying, 'I'm willing to be a complete idiot and throw all my lawyers away'. We're going to have a discussion with the DoJ about what that looks like, the ball is in their court."
Ad. Article continues below.
It's not often that Assange agrees to appear on mainstream television and many have said Aly took it too far bated him into the heated argument.
Others though have praised him for taking a tough stance and holding Assange accountable.
What do you think?
Should Assange hand himself over to the US? Or is he being scapegoated for revealing US wrongdoings?