'I love lightning storms, but not the downpour that follows'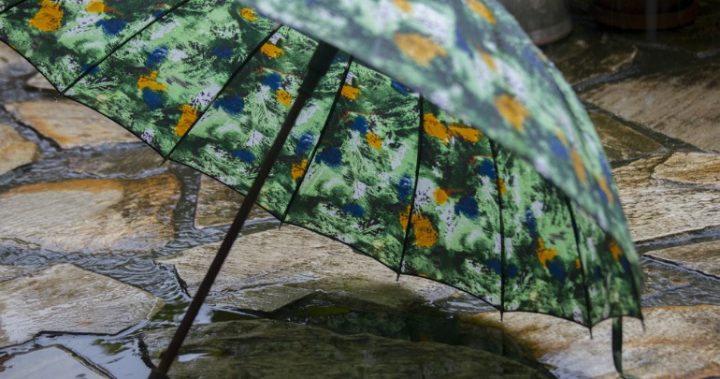 I live in a 300-year-old converted barn in central France, and we have just had a massive thunderstorm at 3am. I love watching lightning in thunderstorms. I am excited by the sharpness, the unpredictability, the sheer power of the zigging, piercing light.
However, I don't  like the downpour that often accompanies nature's light-show. It often brings a downpour of rain which roofs, guttering, gutters, paddocks, drains and culverts can't manage.
Tonight's torrential rain has been accompanied by gusts of damaging winds. The power has cut out, an ornament has crashed to the floor, and drips have begun inside.
Without any street lights, and no moon light, but with continuous flashes of lightning, I have cautiously walked barefoot to assess the situation. 
A cheeky drop has landed on the back of my neck. A puddle is growing on the tiled floor in the lounge room, and a woven rug on the mezzanine floor is becoming heavier and darker with each droplet. Some of the huge oak beams, 300 years old, shine with moisture above me. Drips are under, over and on me. This is meant to be my safe haven, but this is one massive, destructive storm.  
Ad. Article continues below.
Where else do I need to move furniture, to avoid more water damage? The massive beams have become a non-paying waterslide, but this was not fun.
I gathered towels to soak up some of the water, and placed a bowl under the mini waterfall. 
Dripping then commenced in my bedroom, as the storm raged around in the night. Another bowl, more towels, and the watery hours continued. Drops per second. Drips following drips.
It was impossible to relax back into sleep. I checked rooms, furniture and floors by torchlight, trying to minimise any water damage as new leaks appeared.
After some time, the storm moved on, and daylight slowly approached. Sodden towels, plastic bowls, puddles on the floor, furniture in weird places, and rolled up rugs were evidence of the amount of rain and strength of wind that had caused seepage into my rooms. 
Ad. Article continues below.
But it was only water. I guess if the barn has lasted this long, it should survive another 300 years!
Do you love or loathe thunder and lightening storms?