Defining moments in music: Remember when Paul met John?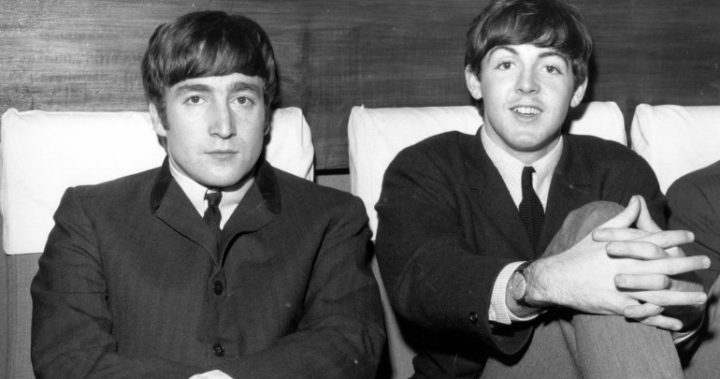 Along with a police dog display and the crowning of the Rose Queen, The Quarrymen skiffle group were one of the attractions of a garden fete at St Peter's, the parish church of Woolton, Liverpool on Saturday July 6, 1957.
The Quarrymen were formed the previous March and led by 16-year-old vocalist and guitarist, John Lennon.
The other members of the group were Rod Davis (banjo), Eric Griffiths (guitar), Colin Hanton (drums) and Pete Shotton (washboard).
Their set was culled from Lonnie Donnegan's repertoire with a few Elvis Presley songs thrown in. John added lyrics about school teachers from their own Quarrybank School and rewrote the Dell-Vikings song 'Come Go With Me', probably because he didn't know the real words.
Most skiffle groups then were folk-orientated but The Quarrymen concentrated on rock 'n' roll material like Buddy Holly's 'That'll Be The Day' and Gene Vincent's 'Be-Bop-A-Lula'.
Ad. Article continues below.
Although Lennon had never met the 15-year-old Paul McCartney they shared a friend Ivan Vaughan who recognised their similar musical interests.
Before their evening set Paul introduced himself to John.
Paul recalls: "I was a fat schoolboy and when John leaned on my shoulder I realised he was drunk."
John recognised Paul's talent and was impressed with his ability on the guitar because John only used four strings as he only knew banjo chords taught by his mother. When Paul picked up the guitar and played Eddie Cochran's 'Twenty Flight Rock' and then added the fact that was already writing his own songs, John Lennon was swayed.
When Paul showed John and Eric how to tune their guitars, John was even more impressed.
Ad. Article continues below.
John deliberates for several days and two weeks later he invted Paul to join The Quarrymen. Soon began the collaborations of the Lennon and McCartney compositions.
By the time The Beatles made their first recordings McCartney and Lennon had written more than 80 songs.
The paths of the creative fulcrum of what would be The Beatles had bisected, the rest is musical hysteria to become the most successful and influential act in the history of popular music.
Did you love the musical pairing of Paul McCartney and John Lennon?
Want to go in the draw to win some great prizes? It's as easy as putting pen to paper, or fingers to keyboard, and sharing your thoughts with other 60-pluses. Sign up as a contributor and submit your stories to Starts at 60 here, and join the Starts at 60 Bloggers Club on Facebook here to talk to other writers in the Starts at 60 community and learn more about how to write for Starts at 60.