'Australia's first Muslim rom-com' Ali's Wedding has lots of charm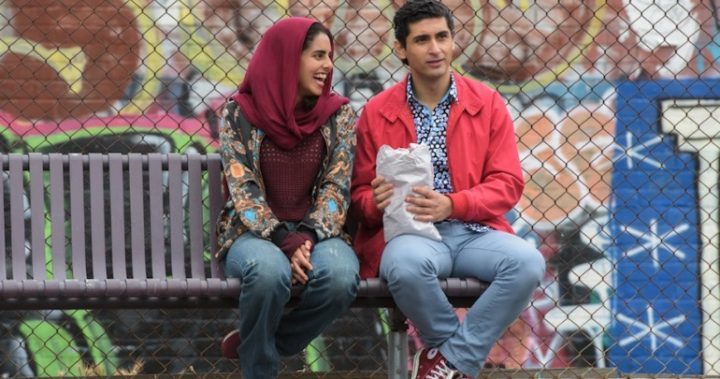 The film Ali's Wedding is based on the 2015 autobiography Good Muslim Boy by Osamah Sami (which won the New South Wales Premier's Literary Award). Sami also wrote the screenplay and plays the lead in this film.
Ali's father Mahdi (Don Hany) is an Iraqi refugee and Melbourne cleric. He's an affable and mild-mannered leader of his local mosque. He also has grand designs for his son, expecting him to excel in his high school exams and gain admission to Melbourne University to study Medicine. 
Unfortunately Ali bombs in the exams.   
To keep up the appearances of a successful student, he dupes his family and the local mosque community about his grades.  Of course, they all celebrate his wonderful achievement ecstatically.  
So, with the hope of improving his results for next year's entrance exams, Ali sneaks in and attends medical lectures at Melbourne Uni. Here he meets the girl of his dreams, Dianne (Helen Sawires), who is studying medicine and is the daughter of a local Lebanese fish and chip shop owner.
Ad. Article continues below.
Meanwhile, because his eligibility in the Muslim community has soared, his father decides to marry him off to the daughter of his most admiring parishioner.  Ali is invited to meet Yomna (Maha Wilson), his bride-to-be, at the home of her parents, where the husband-to-be's technique of taking tea is considered a sign of his intent. 
Of course, eventually Ali's deception is discovered. but not before some very humorous scenes.  
This film is being promoted as "Australia's first Muslim rom-com".  It shows life in a multicultural society that I'm not familiar with. It's endearing and funny, maybe at times a bit over the top, but definitely worth the accolades coming its way. 
ROK'S RATING: 3 glasses of bubbly
Would you be interested in seeing Ali's Wedding?