Are Coles and Woolworths our new national enemy?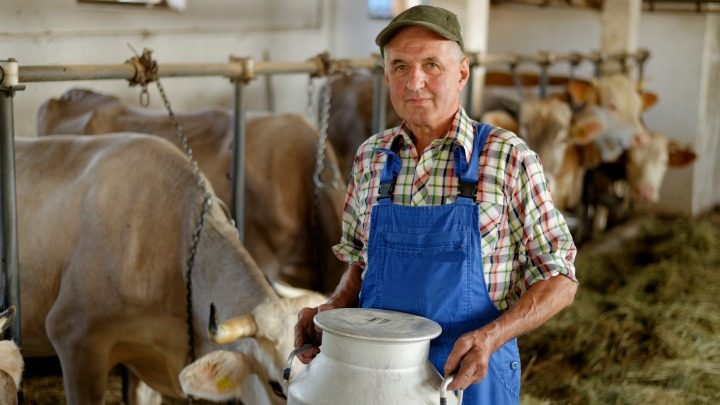 You're really rallying behind the struggling dairy farmers in Australia, only buying locally produced products in supermarkets and corner stores across the country.
Earlier this week the Turnbull Government urged Australians to pay more for fresh milk and not buy the cheap supermarket products in order to support the livelihoods of hundreds of farming families.
It came following news that milk production giants Murray Goulburn and Fonterra slashed the price of milk and milk solids because of a 'global slump'.
Dairy farmers have called on the Federal Government to investigate the pricing scheme for milk, after the sharp cut in what farmers are being paid started a consumer-driven milk fund by Coles in an effort to help the struggling producers.
However, the major supermarket chain has copped criticism for proposing to launch a new milk brand that will divert 20 cents a litre from sales to an independent dairy industry fund because it was only five years ago that Coles slashed the price of private-label milk to $1 a litre and arguably started a price war on milk across the nation. At the time, Woolworths was quick to follow suit.
Ad. Article continues below.
Queensland dairy farmer Luke Stock told WIN News it was too early to know how the changes will affect him, but staying viable is always a challenge.
He has watched the $1 a litre milk price war completely change the dairy industry, highlighting the hundreds of Queensland farms alone that have been lost since it was introduced in 2011.
"To walk into Coles and Woolworths and see our product for $1 a litre it's umm… Sometimes it makes it very difficult to get up in the morning and do what you have to do for the day," Stock says.
Stock says, "To think that Coles is going to spend $1 or $2 million on producing a new line of milk, to me it's really like chicken feed" when compared to the hundreds of millions of dollars that have been taken out of the dairy industry since the introduction of $1 a litre.
"They've done so much damage to our industry in the last five or six years."
Ad. Article continues below.
Australians are sharing pictures on social media of their supermarkets showing empty shelves where local milk products had once been stocked.
@TheDodgey Buy these brands to support our dairy farmers. @Dairy_Australia @PaulsMilk #MilkedDry @theprojecttv 🐄 🐄 pic.twitter.com/CI4svAnKSY

— Simon Tabet (@SimonTabet) May 17, 2016
Social media appeal asking consumers to buy full-priced milk goes viral https://t.co/nojrvjOhqb #milkcrisis pic.twitter.com/9rJlVgQDr5

— SBS News (@SBSNews) May 19, 2016
Ad. Article continues below.
Fridge section in Coles, totally sold out of all brand-name milk, only Coles-brand left. #milkcrisis pic.twitter.com/hJewoYv6UY

— Gareth (@liquidparanoia) May 19, 2016
My local community responded quickly to the milk crisis, supporting Aussie farmers in their time of need #MilkedDry pic.twitter.com/cPyNCspFXA

— Laura (@laurayep) May 20, 2016
Ad. Article continues below.
Further support has been in the more than 150,000 signatures towards 16-year-old Chloe Scott's petition over the crisis. The daughter of a dairy farmer from Boorcan in Victoria's south-west, Chloe Scott has appealed to agriculture minister Barnaby Joyce to take action on the issue.
It has highlighted the power of the people coming together to the aid of Aussie dairy farmers.
Do you support the push to get behind Australian dairy farmers? How have you taken action?