America's gun problem is our problem too says former deputy PM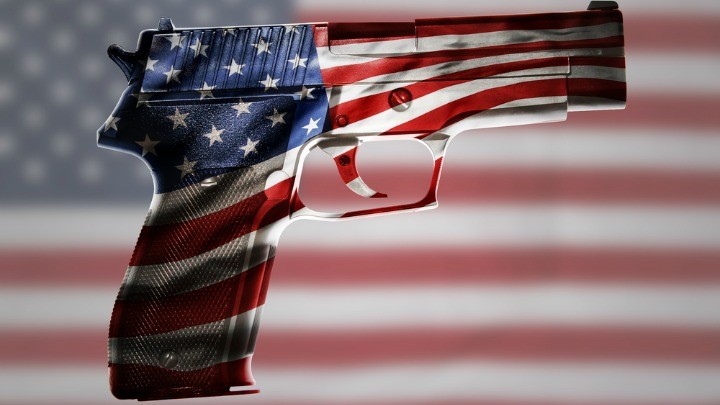 This morning in California, three people, including one woman, burst into the conference centre at a facility for people with developmental disabilities and opened fire with assault rifles, killing 14 people and injuring 17.
The conference centre had been hired by San Bernardino County's Department of Health, reports PEOPLE.
But that wasn't the only shooting in the US today. Earlier in the morning, a gunman opened fire in Savannah, Georgia, leaving three men injured and one woman dead, Mashable reports. The incident was the result of "group violence", according to local police.
As the BBC put it, it was "just another day in the United States of America: another day of gunfire, panic and fear".
#SanBernadino Two suspects dead, one male, one female. https://t.co/Uu57Sn5Syh pic.twitter.com/x1HCvcYfee

— The Australian (@australian) December 3, 2015
Ad. Article continues below.
It may be a case of "another day, another shooting" for the US. But Tim Fischer, former deputy prime minister and National party leader says it's time to "call out" the US on it's failure to deal with gun violence.
"Three hundred and fifty two mass shootings in the USA so far this year but about 80 a day you don't hear about," Mr Fischer told ABC News.
"All [are] unacceptable because the US is not stepping up on the public policy reform front."
He added that he was "sick and tired" of the "one way" attitude of the US in which Americans were warned not to travel to Sydney for fear of terrorism, but Australians were encouraged to travel to the US.
Ad. Article continues below.
"I'm a bit sick and tired of the US chucking handballs at us, putting into their travel advice that it's not safe to go to Sydney," Mr Fischer said.
"Have we not reached the stage where the Smart Traveller advice of [the Department of Foreign Affairs and Trade] needs to be muscled up?" he questioned.
Mr Fischer was deputy Prime Minister under John Howard and was a strong proponent for Australian gun law reform following the Port Arthur Massacre.
In 2013, he called for Australians to boycott travelling to the US after a 22-year old Australian baseball player was shot dead in Oklahoma while jogging.
The shooting in California comes less than a week after a gunman killed three people and wounded nine in a shooting rampage at a Planned Parenthood clinic in Colorado Springs.
Do you think it's safe for Australians to travel to the US? Should the safety level be raised to reflect the danger of gun violence there?