A tribute to my mother for her birthday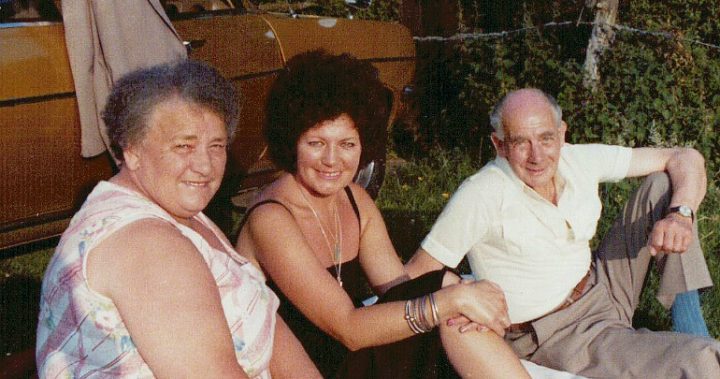 Elsie was born in 1914, to a family in Bristol; there were six children her father lost his well-paid job as a glass blower during the depression, so life became a struggle for the family. Food was scarce, and she often went to bed hungry. Her mother was a dominant woman who somehow managed to keep her family together, but showed very little love. She was not a grandmother to revere or remember with affection.
"Come in you varmints, she would roar, and don't mess my floors up!"
Grandad was special though, he made up for the hardness of Grandma, by reading to his grandchildren and singing Irish revolution songs to them. 
At 14 Elsie started work in a tobacco factory, where she rose to the exalted position of a cigar maker by the time she was 20, making good money. Then she met handsome, dark haired Bertie. They went dancing, with Elsie hiding her dancing shoes in her pocket, so her mother never knew.
Bert and Elsie married in 1938, with the full package; lilies, bridesmaids, family combat and cake. I  was born a few months before war broke out. Bertie was working on the docks as a carpenter, and the turmoil of air raids meant family life was sometimes disturbed. Rushing to the shelter in the middle of the night became normal. The house they had was small but they were happy enough.
Ad. Article continues below.
Elsie had a tongue that could wound though, for all the love she gave out was equalled by the measure of vitriol she also gave if things didn't suit her. Husband Bert was a quiet soul, and he adored her and his kids. Bert was fond of a beer or two and the odd bet; not to excess, but he was made to feel he was lower than a snake if Elsie thought he had given in to his weakness too often. Bertie didn't fight back, just muttered quietly "that's enough my dear", as she raved and danced around him.
She was a brilliant cook, making amazing meals from simple ingredients. That was not enough though, and being from a disadvantaged background made her even more determined she would show her superiority by being cleaner than anyone else. The poor had their pride.
Wash day took all day Monday. It actually started on Sunday when clothes were put in large baths to soak. The first job was to scrub clothes with yellow household soap, and then everything was boiled. Clothes were boiled until they surrendered, and scrubbed until they submitted to her pounding. She often remarked on the grey look of others' washing. That was obviously a crime deserving hanging! Everything was starched and blued of course (good old Reckitts blue), another process that took hours. When I bought pretty underwear it too was boiled until it no longer fitted! Triangles of dainty net and lace became a tangle of exhausted threads. Wash day food was worth rushing home from school for; it was Irish stew with dumplings and spicy, fruit filled bread pudding. I could smell it as I raced down the drive.
After such a harsh childhood she coddled her own children. Winter night bath time was in front of a crackling fire, then they were encased in pure wool underwear; nothing less than the best would do. The meagre wage was stretched to include good leather sandals in summer and fine polished boots in winter.
Ad. Article continues below.
So, although brought up in wartime I was well cared for and well fed, and I was loved and kept safe. Any childhood with those components is a very special childhood. I appreciate what I had.
What are your memories of your parents when you were growing up?