A surcharge for talking on your mobile phone while paying for coffee? Ridiculous or common sense?
How many times have you observed someone ordering a coffee or paying for their groceries while ignoring the register operator and talking on their mobile phone? Have you thought it was rude? Or have you thought it was perfectly fine?
Ad. Article continues below.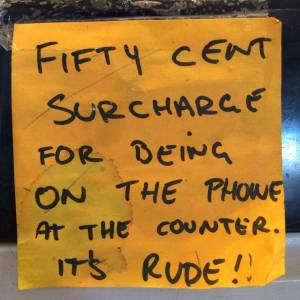 Well, in a bid to stop this rude behaviour and encourage organic human interaction, Bella Natural Food Co in New South Wales has started charging a 50 cent surcharge for anyone using their mobile phones at the counter.
The café manager, Luke Proust has said that customers have responded really well to his somewhat spontaneous decision. After serving his fifth customer talking on their phone during the one day he snapped and said, "It's a 50 cent surcharge." What followed wasn't so pleasant when the customer did hang up the phone and begin yelling at him.
Since the surcharge kicked in yesterday, ten people have been hit with an extra 50 cents. Ironically though, most haven't realised…
The handwritten sign on the counter has received 160 likes on Facebook and appreciation from the community for doing the right thing.
What do you think? Do you think it's reasonable to create a tax to encourage good, old-fashioned human interaction? Or do you think it's just unfair? Have your say and tell us in the comments below!