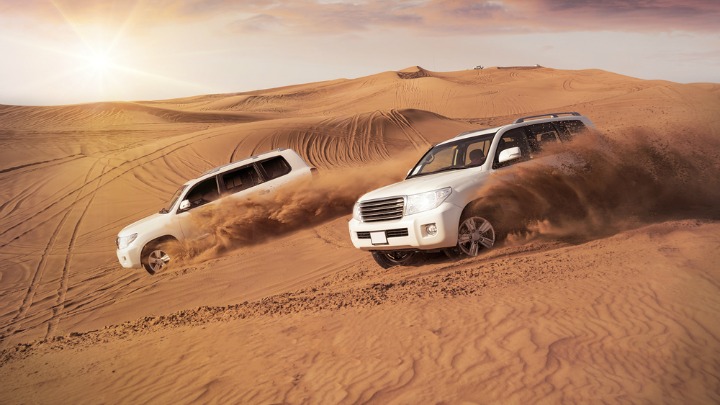 My best and worst experience in Dubai was the desert safari. We were collected from our hotel by a fleet of clapped-out, old, rusty four-wheel drive vehicles. There were no hand grips left, no doubt torn off by previous panicking passengers; there were roll bars and we travelled five to a vehicle plus the driver.
Our driver sped along the straight, sealed desert road at between 120km/h and 140km/h whilst texting. My seat belt was jammed and I was twitchy, very twitchy. I wished that I had read the fine print of my travel insurance policy. He stopped to decrease the tyre pressure to give better traction on the sand. He then careered, at top speed, off the sealed road and into the sandy desert.
Whilst stopped and waiting for other safari vehicles, I informed the driver that he was not to start the engine until I was able to fasten my seat belt. "Don't worry, I don't wear one, all fine," said the driver. I tapped him very hard and repeated myself through gritted teeth. He attempted to free the belt; no luck. Next thing, we shot forward and began the desert and dune roller-coaster part of the safari. I was white knuckled and terrified as the vehicle nearly rolled over, then crashed forward and sped down vertical dunes. Worst of all I could see this action happening in the preceding cars, so was able to anticipate the next horror. Eventually, another passenger freed my seat belt and I clipped it. I did see two people vomit beside their cars!
This ghastly, scary ride lasted about 40 minutes until we reached a desert camp — a mud walled compound with camel stables set into the walls, all alone in the dunes. There were camels to ride, all-terrain vehicles to drive and henna tattoos were being hand painted in one of the empty stables.
Ad. Article continues below.
I pulled myself together and had a tattoo done — a lovely, complicated design that lasted several days. Low couches covered in carpets, rugs and mats were set out for reclining beside a stage. I was offered a hookah to smoke, and being an ex-smoker for whom a day never passes without wanting to have a ciggie, I accepted. I chose lemon-scented smoke — no other additive and happily puffed away for an hour or two. Entertained my friends blowing smoke rings and exhaling through my nose. Hawkers were moving around selling trinkets and a tame falcon was in the mix. I fully expected Lawrence of Arabia to arrive at any moment. Lazing back on the rugs and cushions and watching the camels silhouetted against the sunset was so Arabian that I had to pinch myself. "Is this really happening? Am I really here?"
Individual food platters were served and it was difficult to identify some things and easy to recognise others. Spicy sauces, meats, flat-bread but if it was small and round I gave it a miss in case it was sheep's eyes. My plastic fork broke straight away and I was forced to use the flat-bread instead which was probably more authentic. Delicious. All accompanied by water or soft drinks. No alcohol, because it was…!
On account of Ramadan, the expected belly dancing show was replaced by an Egyptian show featuring twirling Dervish style dancers. Twirling Dervishes twirl until they are in a trance and it is a spiritual experience. Our dancers twirled without stopping for more than 30 minutes. They had light-up costumes and a routine, so I don't think that they were in a trance. Also, in from Egypt were fire dancers who added drama to the dark desert night.
Word was that the return journey would be smooth. Not true. I was astounded that all my friends just loved the rough ride through the desert and shouted and squealed with joy during the journey; but then I have once had a Luna Park ride stopped mid-way to let me off! In the driver's defence, I must say that we were told not to participate if we had a bad heart or bad back. The word wimp was not mentioned!!
The desert safari is de rigueur for visitors to Dubai and I seem to have been an exception, but you have been warned.
Have you travelled to Dubai? Tell us about your best and worst experiences while on holiday.