An honest insight into being over 60 and wheelchair-bound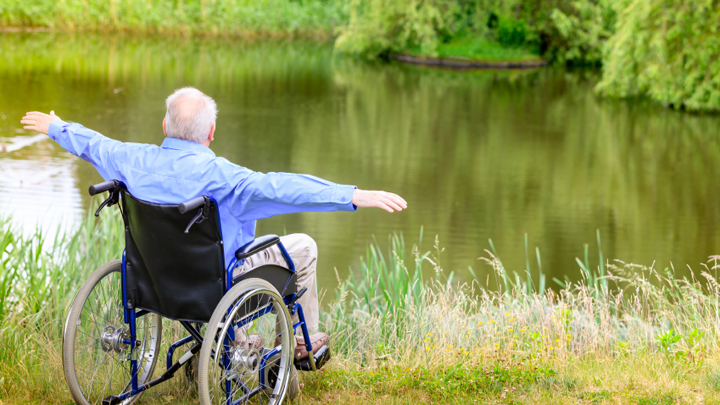 Nearly a quarter of a century ago, the Gods of Fortune looked down on me, smiled, and said: "You have reached a state where we are going to let you enjoy the experience of a completely new way of life"…and dropped me into a wheelchair!
I didn't smile right back at them; in fact, I don't think that I smiled a lot for some time.
I sat around for some time trying to let someone know that I had been fairly happy, even looking forward to a new set of circumstances that I was going through.
"This will be better!", I sensed someone muttering.
Well, I couldn't change it so I sat and waited to enjoy the experience.
Ad. Article continues below.
I had plenty of early support and training for a new life and assurance that if I worked hard that all would be so much easier.
Problem: being naturally conservative with my energy created some divergence from the proposed route. I did make an early observation that prolonged effort created a compromise between a workable bladder/bowel relationship and a rather more unpleasant alternative.
Answer: try and remain functionally capable and desist from being the fittest quad on four wheels.
Eventually I returned home to set about enjoying this new experience.
Since then I have found that most (nearly all) people are willing to help. This can, however, take a bit of monitoring. I recall being helped across a road and along a footpath by a young relative. As we travelled I observed that we were gradually getting too close to the edge of the path and I put pressure on one wheel to straighten up. A little further on and we looked suspiciously likely to take out an approaching pedestrian. A little more judicious pressure and we navigated around that obstacle and, safely past, I turned to offer a bit of advice to my young assistant to see her some 30 metres behind. I had been travelling solo and totally unaware of this small detail.
Ad. Article continues below.
A little known fact is that wheelies, if polled, would fairly unanimously vote for replacing all carpets and grass (with the exception of bowling greens) with concrete at a minimum and preferably tiles.
This brings us to another area where support can be valuable: a line-up in a carpeted area (club, theatre). Once again, monitoring is imperative as it seems that the natural line for somebody pushing a wheelchair precludes them from being able to see the feet of the resident. This then, quite naturally, leads to burnt hands of said resident; rubber stains on the carpet as locked wheels forge forward; grunting and perspiration as assistant struggles with a very difficult task and pained, and lamed, people in front.
Onwards as we occasionally glimpse enjoyed experience!
People sometimes enjoy talking with us as realisation emerges that people in a wheelchair are sometimes capable of entertaining conversation. This can be a little dampened when the handles at the back are used to lean on during said discourse or, even worse, the wheel is used as a foot-rail for a listeners comfort. I recently became aware, from a friend attending a crowded chook-sale in an electric chair, that someone stood on his footplates "because I can't see!" 
Although I would certainly not recommend life on wheels as a preferred option I have found it an experience that has afforded me many pleasures.
Ad. Article continues below.
I have met many beautiful people in and beside wheelchairs.
I have had some wonderful experiences on a bowling green (perhaps a story for another time).
I have had some very emotional relationships with people who trusted me with personal photos for restoration and collages.
Next time you are near a wheelie, have a yarn with him/her. If they are not busy and you have the time it may well be a worthwhile experience.
Tell us, has this honest account changed your perspective or given you more understanding of 'wheelies'?
To write for Starts at 60 and potentially win a $20 voucher, send your articles to our Community Editor here.