An exotic trip to Bundaberg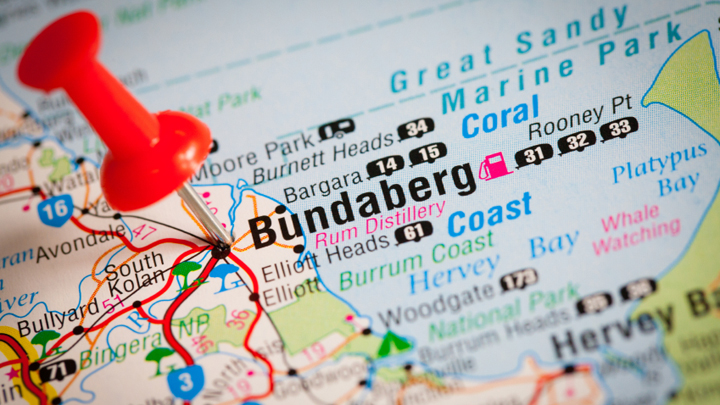 It was Thursday and the weekend held little promise for excitement. So a chance to escape for a day or two was most welcome. Ideally one would choose escaping to say, Green Island, the Sunshine Coast hinterland or Hawaii; but I had to be content with Bundaberg. Now don't get me wrong, I have nothing against Bundaberg. This particular weekend jaunt to the rum capital of the Sugar Coast was to prove a most interesting experience.
The four of us arrived around 7:30 pm.
After dining at the Pizza Hut, we checked in to one of the Bourbong Street motels. It was clean, comfortable and cheap. The interior was minimalist in its décor; an effect most likely achieved unintentionally as the motel owners were interested in keeping costs down. Applying a basic archaeological dating technique I deduced that the room's furnishings were mid-70s vintage as the TV looked to be a 1976 model. And you could tell it was low season. The only other sign of occupancy was the grim-covered station wagon parked in front of the next room. The vehicle was jammed full of assorted belongings. Origin: somewhere in Queensland. Destination: unknown.
Our destination for the latter part of the evening was Krystal's Nightclub. Fortunately I did not hold any great expectations for the place, so I was only mildly disappointed.
Krystal's is a roomy establishment with levels of stairs leading to the dance floor stage area. The air was characteristically smoky and punctuated with the smell of beer and rum (most probably Bundaberg Rum). The most striking feature about Krystal's was its clientele. The great majority of patrons could best be referred to in the vernacular as 'Bevans'.
Ad. Article continues below.
Bevans may be found in any of Australia's regional towns (or cities). Their garb typically consists of a flannelette shirt under a denim jacket or sloppy joe; tight-fitting blue or black jeans; and ugg boots or well-worn joggers. A Bevan wears his hair in a casually unkempt style. Female Bevans are variously known as 'Cheryls'. They wear similar clothing to their male counterparts. Their hair is usually dyed or streaked in discordant colourings and they wear an abundance of silver jewellery.
To be fair, I must say there were people at Krystal's with more refined tastes in fashion.
By 12:15 my patience and optimism all but left me. The dance music was dated and uninspiring. I thought to myself: perhaps the DJ had until recently been imprisoned in a 1976 time capsule. I tried visualising I was on Green Island: palms, sand…calmness…blue, green…then a thud. My visualisation was broken by a nightclub patron tripping up the carpeted steps near our table; another person threw up; and to top things off a brawl broke out several tables away. This was our cue to leave.
Back at the motel nobody felt tired enough to sleep so we stayed up to watch an in-house movie. It was a B-grade police drama starring Burt Reynolds with a conspicuous absence of four-letter words. (The Krystal's DJ would have loved the movie as it was made in the mid-70s.)
On Saturday morning we planned to go shopping. However, before we could do so there were a number of things to take care of. Firstly, we had to wait outside the motel for one of our party to return. We hadn't seen her since 10:30 on Friday night. Next we had to find the Bundaberg Computer Centre. We politely asked an elderly couple who were taking a casual stroll down Bourbong Street but they were of no assistance. The woman strangely thought we wished to make a donation to the Flood Appeal and confidently told us to keep going but not to pass the post office. Needless to say the Computer Centre turned out to be nowhere near the post office. Last of all, two of our party needed to withdraw cash from an ATM. They were both confronted with the same message: insufficient funds.
By now it was well past 11:00 which left little time for serious shopping; and decided to cut our losses and have lunch at McDonalds. Reflecting on the previous 24 hours we laughed….and chalked it up as another addition to our bank of travel memories.