All my cars over the years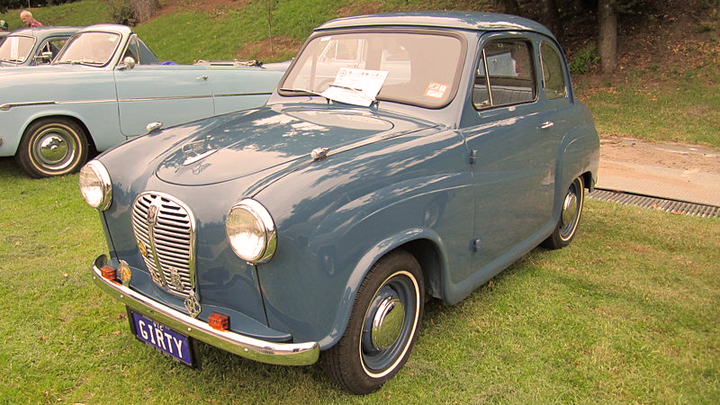 Recently, I have been thinking about the miles I have driven, and the cars, many and varied, I have owned in my 46-ish years of driving. All of them I have picked out myself; they have all been the one (a gut decision). I have never had a lemon in all the cars I have had and all of them have been second hand.
The car I went for my driver's licence in was an Austin; it was given to the family by the archbishop of Willochra in the late 60s. He was a great friend of my Mum's, he lived over the road from us, he was a widow his 80s and he had tea with us a couple of nights a week. When he eventually retired he gave us his little car, we called it Arches. I can still see the twinkle in his eye and hear his delighted chuckle when he heard the name we gave his car.
Eventually I moved to Adelaide. I saw an advert for an Austin A30, British racing green. I remember going to Morphett Vale to pick him up, Fangio – I paid 50 dollars for him. Coming home on South Road at 4.30 on a Sunday afternoon, at 35 miles per hour, you imagine the chaos ensued. Day trippers on the way home, were lined up behind us, all the way up the other side of Flagstaff Hill! That little car took me up to Jamestown twice, it took ages, but we got there. Eventually the gear box fell out, that was a shock. Fangio ended up at Rolly Park, they flared the tyre covers, put wide tyres on and painted yellow and orange flames down the side. I never did see him in action.
My friend's husband insisted, on looking for my next car (I had completely forgotten about this) he had instructions: small car, with four on the floor. He came home with a Ford Falcon station wagon. Snow: it was white, the one with the round head lights; it was automatic, and had a tow bar, and those little side windows in the front, good air con, one of the loves of my car life.
Ad. Article continues below.
With a new job and a little more pay Sun came into my life, a bright yellow Torana, fast and zippy. My best friend and I were all over South Australia during the next three years. Day trips to Victa, Pt Broughton for the weekend, up to Wentworth for a pokies weekend. She nearly had a conniption when she found that I had never had a jack for Sun. It was just as well we never needed one.
I spent time in NT, and in the first year I had a Ford (Bett) and it was my fast car (bet I can go faster than you). The one with the flared front hood and a hard top; had to sit on a cushion to see over the hood. A few times I low flew into Alice Springs from the resort I worked. Trips to Adelaide were quite fast too. A Nissan short wheel base 4WD came to my attention (Gertrude (named after the resident Emu)) while I was up there. What a hoot going out to the pumping station with the maintenance boys, crawling up the shale hill, slowly, very slowly. Then on the way back driving up a big red sand hill, not knowing what would be on the other side. Learning if you don't make it the first time, reverse back and go faster the next, heart in mouth stuff, I can tell you. So exhilarating!
Over the next few years a Nissan: Sky, as it was light blue; a navy Barina called Max, my brother had a station wagon called Pepsi. Another Barina: Jade, yes it was a blue/green colour, that little car was given to my great nephew's Nanna so she could pick him up after school.
I now have my retirement car, still second hand, a Ford Mondeo Giah; it has a spiffy wooden instrument panel. The colour is Electric Current, which is the most wonderful red. Ruby is her name. What else? She has power steering, is automatic, has air con, electric windows; never had any of these before. A tape deck was the crowning glory! Dr Hook, Neil Diamond, Cliff Richard; all have come out of the cupboard – bliss. I just love it.
Ad. Article continues below.
So that is that, there is probably not enough technical information for some, but, I am not a technical person, just a person who needs a car to get around in and who just has to have a name for her car.
What cars have you had over the years? Did you name your cars? Tell us about them below.