Albury, the town that saved an aeroplane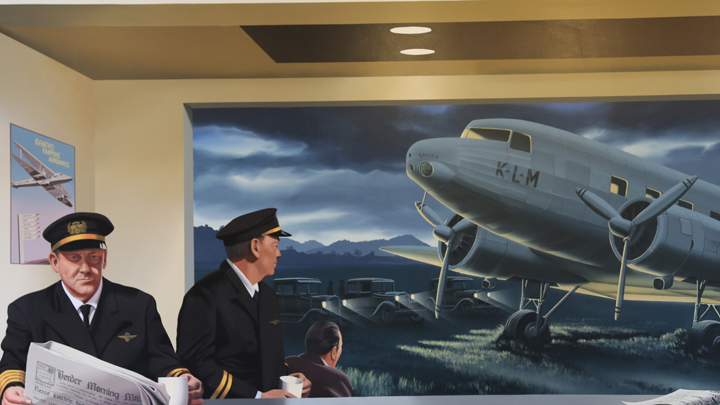 Eighty years ago, as I write this, Albury saved an aeroplane and the seven souls on board; the crew had lost their way in a thunderstorm and faced the prospect of a tragic end to their flight.
But I get ahead of myself…
Melbourne celebrated its centenary in 1934. Proud citizen and chocolate millionaire, Sir Macpherson Robertson, sponsored an event suggested by the Lord Mayor to ensure the world's eyes were drawn to their fair city. He provided a prize pool of £15,000 for an air race from London to Melbourne. The outline was simple: It would coincide with the centenary, bear the MacRobertson brand name, and be made as safe as possible.
A race committee from the Royal Aero Club was established, setting a starting point at RAF Mildenhall, East Anglia, with the race to begin on 20th October. They drew up a 19,000km route with mandatory stops at Baghdad, Allahabad, Singapore, Darwin and Charleville. To finish, aircraft were to overfly Flemington racecourse before landing at Avalon, first arrivals expected in about four days.
The de Havilland Company created a racer, the DH88 Comet. A beautiful design, it was a small, light, sleek, powerful twin-engined monoplane and seemed perfect for the race. Several were entered, with three making the start.
Ad. Article continues below.
At perhaps the other extreme, the Dutch airline, KLM, entered a passenger airliner, a Douglas DC2 bearing the name Uiver (Stork). Released just the year before, the DC2 (along with Boeing's 247) was an all metal, all weather type intended to take aircraft design away from the wooden frame and fabric types that previously flew mail and passenger routes. So successful was the design, the basic concept has been used right through to the modern day.
Sixty-plus entries were received for the race but just twenty started. In a race like this, there will always be misadventure and hard luck stories: only nine of the starters were classified as finishing. Sadly, there was one fatal accident, with two Britons dying when their Fairey Fox crashed in Italy.
There were two categories and two winners: one of the DH88 Comets, Grosvenor House, crewed by a pair of RAF officers, won outright in an elapsed time of 71 hours. Handicap winner was the KLM DC2, Uiver, with an elapsed time of 90 hours, and this despite the most amazing near disaster.
Uiver was to prove the comfort, safety and reliability of international air travel. Captained by R D Parmentier, with three other crew and three passengers, the flight went well until the last leg, Charleville to Melbourne. Parts of south-eastern Australia were affected by thunderstorms on that night. Uiver flew into this atmospheric maelstrom, radio contact was lost and, with no navigation aids other than a compass and ready reckoning, drifted off course.
A little before midnight on Tuesday, 23rd October, Mr Turner, a telegraphist at Albury Post Office heard the faint sound of an aircraft overhead. A keen follower of the race, he believed it must be Uiver. He contacted officials of the air race for confirmation and helped set in motion a plan, brainchild of Mr Mott, editor of the Border Morning Mail. They approached council engineer, Mr Ferris, seeking assistance. He allowed entry to the electricity sub-station, where Turner flicked the main switch on and off, flashing the Morse signal A-L-B-U-R-Y in the town's lights, followed by a continuous string of dots.
Ad. Article continues below.
In the meantime, Mr Newnham of local ABC radio 2CO asked people to drive their cars to Albury racecourse. Once there, they lined up alongside the main straight with their headlights on, creating a safe landing strip. Shortly after 1:00am, Captain Parmentier brought Uiver down to a safe landing.
On the following morning, it was noted that eight tonnes of DC2 were bogged in rain-softened turf. Some 300 townspeople arrived to dig out the wheels, and then used ropes to pull Uiver free of the soil. Minus seats, passengers, mail and all other unnecessary weight, she took safely to the air at 11:30am, passing over Flemington before landing at Avalon at 12:30pm.
Clear thinking and ingenuity had saved the day.
I'd like to add a number of postscripts:
Uiver flew back over Albury a few days later. The crew dropped a Dutch flag and a note that read, "To all our good friends in Albury, we salute you and wish you well."
Ad. Article continues below.
On a sad note, Uiver was lost, with all on board, just two months later. She crashed in the Syrian desert while on a mail flight from the US to Jakarta.
Albury City Council engaged brilliant New Zealand muralist, Marc Spijkerbosch, to paint a trompe l'oeil of the event; it now graces a wall in the airport café. My photo shows the section of mural depicting Captain Parmentier reading the Border Morning Mail with Uiver, up to her axles in mud, visible through the window behind.
Do you know of a remarkable event from our history? We'd love to hear it.