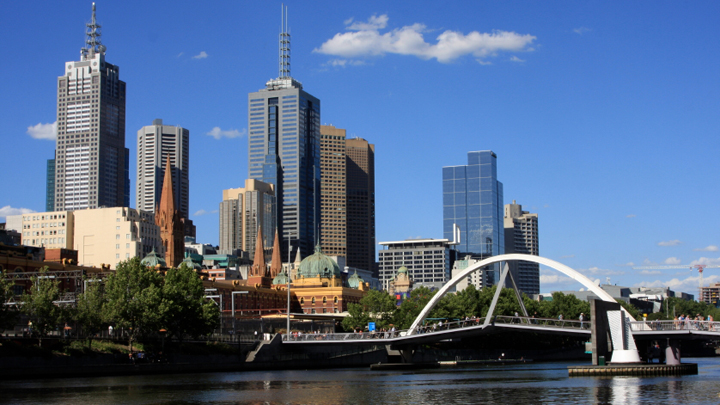 Jacqui and I went to Melbourne yesterday, after a gap of about 18 months.
Boy, what a shock! I had no idea how much we had become accustomed to the quiet life in Yarram, with its small shops, parking right outside any one we wished to enter, reasonable numbers of people strolling about, and most of them well known to us, so that a quick shopping trip becomes an hour or more of chat. In fact, the easy going life most people in small towns enjoy.
The first hint I had that things were vastly different from home was when I looked out of the train window as we passed the suburbs of Melbourne. Where we live, we're used to having a large garden around us, just like all the other houses in the town, but the estates we were passing had tiny gardens and the houses themselves were packed so closely together that it would be difficult to walk between them. I guess this is the result of higher land costs than in the country. In the city you have a small plot, or no house at all!
We got off the train at Flinders Street and were immediately assailed by a wall of sound – not the twittering of birds and the occasional car we are used to, but a bedlam of loudspeaker messages, masses of people, hundreds of cars and trucks passing by, and the clank and roar of the trams – lots of them! Now I'm not complaining about this – we used to live in Melbourne so we are quite accustomed to the noise and bustle, it's just that it came as a bit of a shock after 18 months away. This noise went on for the whole time we were there, but after about an hour we took no more notice.
Ad. Article continues below.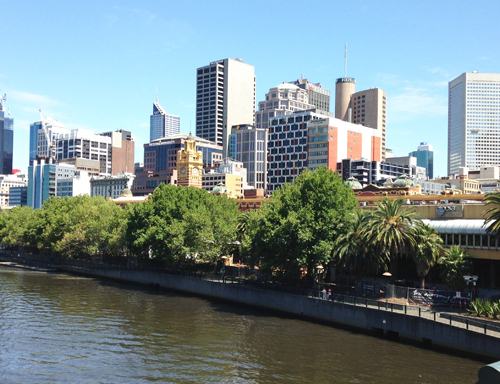 Another shock to our systems was the sheer number of people there were around us, all of them apparently in a gigantic rush to get somewhere and ninety percent of them either wearing earphones or gazing avidly at an iPhone. In Yarram, the main street is crowded if there are more than a hundred people, but in the city there must have been that many within twenty metres of us – and they were always there, like a fast flowing stream, totally unaware of our presence!
One of the main reasons for our trip was that Jacqui wanted to see the Jean Paul Gaultier fashion exhibition in the National Gallery of Victoria, about a kilometre from the railway station, a bit of a slog when the pavement is packed with people all the way. By the time we got there I was already beginning to feel a little bit tired, so I decided to find a chair somewhere while Jacqui went in. About an hour later she came out, ecstatic at what she had seen, and we started the walk back into town.
It was about then that our age began to catch up with us! We found that we were looking for seats to sit on every hundred metres or so and we both started complaining of pains in our hips and knees. To add to our increasing discomfort, yesterday was nothing like the forecast and it was hot and sunny, with us carting macs and umbrellas, for protection from the weather we were supposed to be having!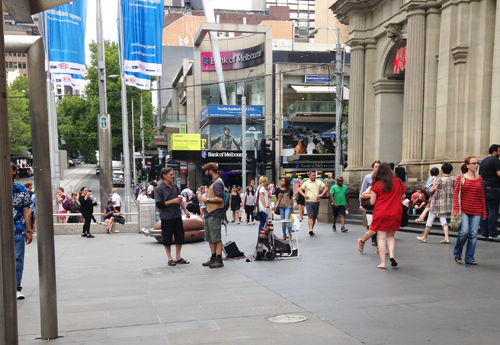 Ad. Article continues below.
Another reason for our visit was H&M, a new and very exciting fashion shop, recently opened here from Europe, supposed to have terrific designs at reasonable prices. They are situated in Burke Street, which meant a two kilometre walk for us, (in our condition!), then of course, there was the wander around the store ogling everything – and buying some too! By the time we came out we were feeling really pooped, and we still had the long walk back to the station.
To cut the story short, or else it will be too long to publish, we did make it, and we slept for most of the trip back to Traralgon, where we'd parked our car. Thank goodness I was feeling much better by then, because I had the three quarters of an hour drive to Yarram to get through yet, before we could really relax. It was a great day out, which we enjoyed very much, but we have learnt our lesson – you need to do some careful planning before you attempt a trip like this at our age; we will be more cautious next time!
When was the last time you ventured into the city? What happened while you were there and which do you prefer: city or country? Tell us below.