A smarter way for older people to look for work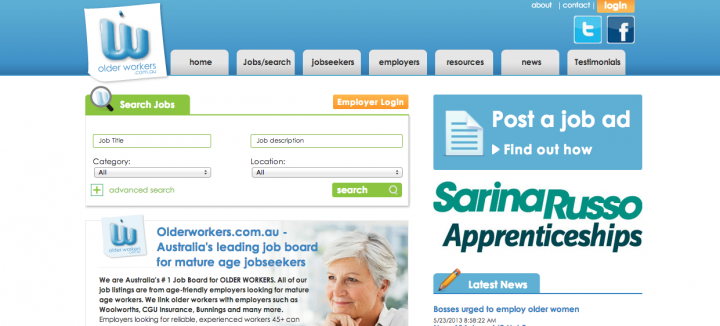 Getting a job over 60 isn't easy, and this is something that Judy Higgins and her husband worked out through their own personal experiences more than five years ago.  In response, they and their son Matt have taken on the challenge of helping a country-full of older workers find jobs by starting www.olderworkers.com.au, and frankly, have made it their job to make older workers cool…  Judy is going to write regularly for Starts at Sixty to give our community an insight into how you can get a job you want with an "age friendly employer".  Judy kicks off today by telling us her story…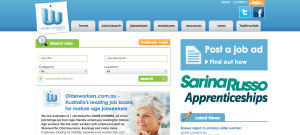 www.olderworkers.com.au launched as a job board specifically for jobseekers over the age of 45 about 4 years ago……just before the Global Financial Crisis hit.  Great timing!  We are an Australian owned and operated business that was started up due to personal circumstances.  My husband Shane, one of the Directors was in his mid 50's when the company he was working for was bought out and he and several others, all in their 50's or over, were moved sideways.  Shane had been in sales almost all of his working life, and in this particular job had exceeded all targets and had just been given a salary increase and a very positive position review.  The sideways move meant he was no longer 'on the road' in sales, but had an office position without his company car, company phone and sales bonus scheme.  Effectively his salary package had dropped considerably.
He had never had trouble getting a job so resigned and spent the next 2 years out of work eventually taking a job well beneath his training or skills, but was thankful to get any job.  The 2 years he spent out of work were not only difficult financially, but very difficult in terms of his self-esteem, well-being and motivation.   He would often get down to the last 2 or 3 applicants but on almost all occasions missed the job due to his age.  The organisations would actually tell him this when he asked for feedback.  Ageism was, and still is, alive and well.
Ad. Article continues below.
In that period I had been developing and implementing a Queensland government program called Experience Pays Awareness Strategy; a program that promoted the benefits to employers of older workers – workers over the age of 45.  I knew what the issues were with employers and the myths that would often prevent organisations from employing the over 45's and the other side of that, being the difficulties for older jobseekers.  I left that job after 3 years, however I had a team that was very committed and worked with industries and employers to argue with research and facts to show the long term myths were just that; myths, and that older workers had an enormous amount to offer employers.
After going through such a long and demeaning exercise he, along with our son Matthew launched an age-friendly website called Olderworkers.com.au  This jobs board is the link between age-friendly employers; those specifically looking for those with life skills, experience, loyalty, mentoring, problem solving – and the list goes on –  and jobseekers.  They now had somewhere to find each other.
Ad. Article continues below.
Just as importantly, jobseekers had somewhere to go to find a job where their age would be an advantage and not a liability.
I would be lying if I said it had been easy.  It certainly has not.  But we now have the largest and fastest growing job board for older workers and jobseekers in Australia.  We have over 1700 registered employers including some of the largest companies in Australia, and over 22,000 registered jobseekers Australia wide.
We are thrilled to be considered the 'go to' by the media in all things relating to older worker employment.  We have been on the Today Show, 7.30 (ABC), Today Tonight, A Current Affair, radio stations too many to mention Australia wide, in the Sydney Morning Herald, CareerOne,  The Australian, The Age, Weekend Australian.  The great thing about this is that it promotes older workers and older jobseekers and that's what it is all about.
Ad. Article continues below.
We are passionate about getting the message out there about the benefits of older workers in all organisations.  To be thrown on the scrap heap at 45 onwards is a ridiculous waste of rich resources in this country, and it's all about choices.  If you don't want to be working when you are older then that is fine, but not everybody is in that position and many older Australians need to work to make ends meet.  Many also work because they enjoy working for a variety of reasons.
Over the months I will provide you with more information about how to build a resume, interview tips and many things relating to job hunting and employment.  I stress we are a jobs board, we operate in the same way as SEEK does, we are not an employment agency.
Ad. Article continues below.
Please feel free to go onto our jobs board and register as a jobseeker.  Go onto www.olderworkers.com.au
Like us on our Facebook page and follow us on Twitter  @olderworkers
If there are any particular subjects you would like covered in my articles please let me know, email me at:  [email protected]