A photo a month challenge: Unleashing my creativity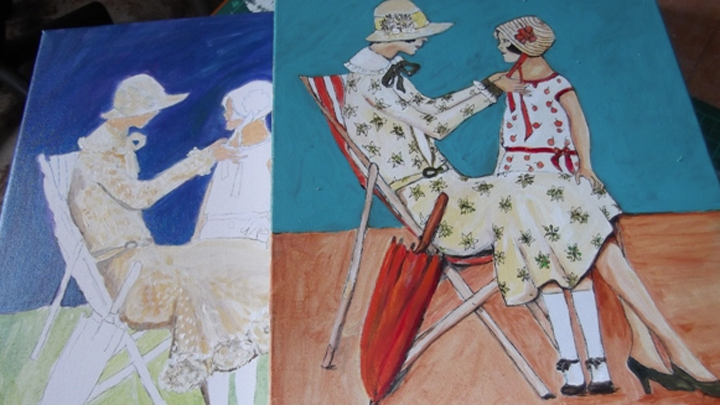 February was a month of contrasts, so to typify that month, I decided to use the creativity I enjoy as my theme. The photo is of a few things I painted last week, am working on more now, as there are three exhibitions we might enter at Easter. We have a very arty little town! People flock to town for the parade and the shows. It is a great place to be at Easter.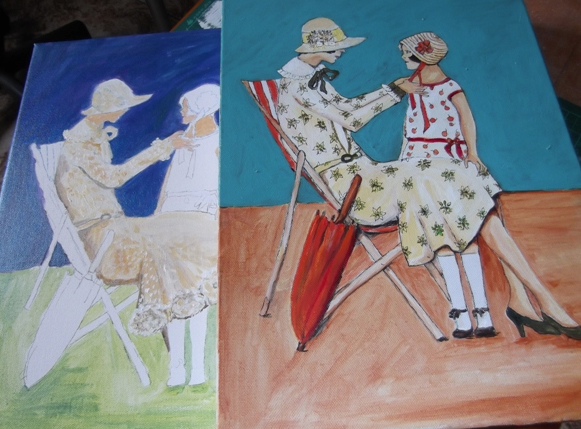 One of my other tasks using my creative streak is to help a disabled group enjoy and produce art. Sometimes I have a lot of preparation to do ahead of time. But the joy it gives back is tenfold. To see little 'J' almost with her nose on the paper, paint in her hair and in her ears, concentrating and really painting away with gusto is enough to bring tears to your eyes.
Ad. Article continues below.
Some of the art involving sponges has already been made into cards, and we framed a couple "J" did. Yet she is almost blind and severely disabled. One is unable to talk and for the first time did more than scribbles yesterday she tried to draw objects. The hyper active one was given tasks like pencil sharpening or making coffee when he got bored. But he understands more now and is integrating better.
So time for my own art is also precious. I have completed three paintings on a fashion theme from a 1929 magazine, but have changed it to be my style. Backgrounds, basic colours, and patterns all different. I sold one recently which always makes me jump for joy! My prices are not large so I don't make a fortune. I am often told you should ask more, but feel guilty about that. If we lived in Melbourne I might, but here they need money for the new tractor or the feed for winter.
I love writing, and love art, finding time for all the other things is the problem, that cupboard with items falling out needs sorting, I must sometime clean under the bed, but our bed is a bit wobbly and moving it with husband's bad back and my arthritic hands is also a worry. So it waits for another day.
Once I get my paints out I am oblivious, but that is usually the time the cat decides she needs my undivided attention, or the phone keeps ringing, or my husband says… "Where is the…?" So I look forward to the fortnightly time at art with friends, we have no tutor and are mostly self-motivated and help each other. But some of the work produced by the others is beautiful.
Ad. Article continues below.
I belong to another group and we write together. Working to try and help each other, we have produced an anthology, and in fact did this for about four years, but now time for short stories or articles to send to competitions is our limit.
So the creativity in my life is like the glue that holds it together, it is sometimes an escape, sometimes a lot of hard work, but it seems as if as long as I have health and breath I will paint or write, and for that I am grateful, as I sure won't ever be rich!
How do you get creative? What have you done this month that you are proud of?  Tell us in the comments below!