A photo... A memory... A smile of joy...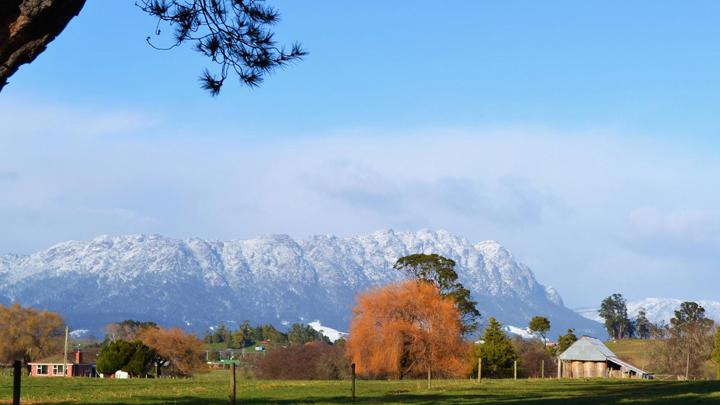 I wrote an article a few months back about a special photo. It is a tiny little Polaroid badly worn for having lived four decades in my wallet. Along with another photo taken just before she died, it helps bookend the years of love and life enjoyed with a beautiful companion, my wife Marie.
Although I don't intend this to be a continuing saga, I'd like to talk about another photo, one that brings a memory and a smile of joy at the recollection…
We lived in an incredibly beautiful part of the world, Marie and I, the town of Sheffield, tucked away under the bulk of Mount Roland on Tasmania's North-West Coast. I nursed my love at home for a decade before the ACAT girls convinced me I must place her in the local nursing home. As with others before and since, it was the hardest decision I ever made but, in the event, the right one.
This is a fabulous nursing home. From CEO and DON, all the way up the chain to the tea lady, everyone is lovely. I became a regular visitor, calling twice a day, and appreciated the way we were accepted by management, nurses, carers; it was – and remains – a nice experience.
Marie, despite circumstances, made easy friendships. One of the experiences she got to love was her chats with the two RN3s who pretty much shared the night shift at the home. In the mornings, she would regale me with details of previous night's chat… and a few of the risqué stories told!
Ad. Article continues below.
A slight change of scene for a moment. Mount Roland stands 1234 metres high and gets a light to moderate covering of snow four or five times a year. The snow never lasts long, usually melting away within a few hours. When there has been an overnight fall, it's a matter of heading out quickly to catch a shot while the effect remains. Thus was the case in August 2012.
Looking out the kitchen window one morning, realising there was a moderate covering of snow, I took dog and the camera and hopped in the car. I knew a special spot from which to capture our snow-capped mountain and that's where we headed. It required a couple of hours' wait but I managed to frame the shot I wanted. We went home, I uploaded the photos into the computer, chose the best and printed an A4 copy.
Time then for my morning visit. Marie loved the shot and asked if I'd leave it with her so she could show staff and anyone else who may be interested. Of course.
The next morning when I went in, she was all excited. Unknown to me, my special spot to frame the photo was across a farm owned by one of the RNs and her husband. The RN loved the photo and explained that several generations of her family had lived on the property. Because of its significance, Marie asked if I'd do another print and frame it so she could give it to the RN.
I found a nice frame, mounted the photo and took it in a couple of mornings later. One of the last things Marie did was to give it to the RN. She died little more than a day later but I am forever comforted by the great joy she got from giving something that, in turn, provided pleasure to her friend.
Ad. Article continues below.
We all hold on to special memories and thoughts and this is one of mine. Perhaps it is some part of the meaning in Prospero's words from The Tempest, "…such stuff as dreams are made on…"
I think the Bard would understand my heading, "A photo… a memory… a smile of joy…"
Do you have a photo that you love that brings back beautiful memories? Tell us about it below.