A new chapter for the dog of my sick friend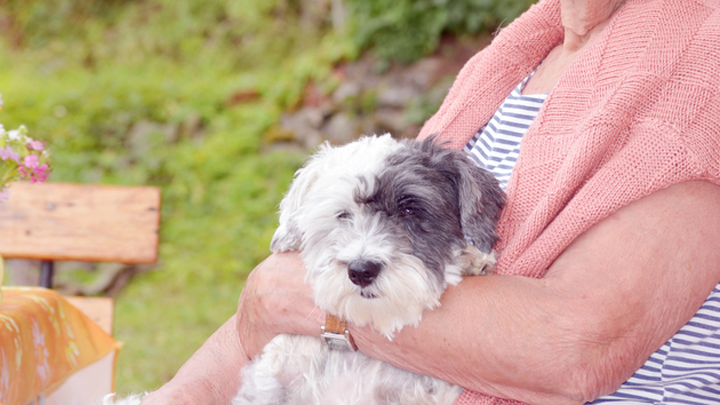 The ongoing story of Pat – what a learning journey it continues to be. You can read Lyn's previous article here. 
I have been very concerned about what was going to happen to little Alphie, the little furry dynamo that stole Pat's heart and gave her a great deal of pleasure and loving company. We now know that life for Pat will never return to those precious days in her lovely little unit which she had set up so beautifully.
When she was admitted to hospital three weeks ago, her main thought was to get back as quickly as possible to her little dog, but as the days have progressed and her memory becomes scrambled, she no longer mentions him.
Yesterday, a very strange thing happened. Last week I took her in a furry toy dog which she eagerly embraced. I was surprised that did not stimulate the memory of Alphie even though she has spent many hours since cuddling the unnamed toy.
Two days ago she asked if I could do her a favour. From under her blanket she retrieved the rather bedraggled animal which she had clutched to her bosom. She asked if I could please take him as she couldn't look after him anymore. She said she had been trying to keep him warm and he wouldn't eat. I agreed to take him and asked if she would like me to bring him with me on my next visit but she said no, and she repeated that she couldn't look after him anymore. She couldn't know that her own, real life dog was waiting patiently for me in the car.
Ad. Article continues below.
Out of all of her confused conversation, there were moments of lucidity but then she would go completely off track. She is fixated that everybody is trying to steal from her and she needed to get back to her unit. I told her as gently as I could that she would not be returning and I would always make sure that she was safe. She said that she loved the unit and it looked so lovely. I reminded her that she had told me she wanted to leave as she didn't believe she was getting enough care. I assured her that we were looking for just the right place for her where she would have all the care she needed. She looked at me with big eyes and said that she trusted me and she knew I would look after her.
I have a month to clear out her unit ready for sale. It won't be nearly as big a job as moving her out of her home but once again, a sad process. I have always taken these transitions for granted, but not anymore.
Then she said something that was heart breaking. She said that her life as she had known it was over and she wanted to die. She said she had tried to die – even putting her hands around her throat but she just couldn't die. I felt so helpless and all I could do was hug her and tell her we were going to find a special place for her. Four weeks ago she was still doing crosswords, now she opens them up eagerly and looks at them with vacant eyes. She says she needs new glasses. It must be so frustrating for her.
I am wondering what I can do to lift her spirits and would welcome any ideas. She feels the whole world is against her and of course she is sure the doctor is trying to kill her.
Ad. Article continues below.
I have an appointment with a broker this week so that we can find the right place for her. She does respond to touch. She loves it when anybody strokes her hair and arms but you can't expect nursing staff to have the time to do that. At least she stopped thinking she is Gypsy Rose Lee and seems to be keeping her clothes on. You can't help wondering what that was all about.
I stayed at my daughter's unit with Alphie that night as we pondered on what we were going to do. Alphie slept right next to me and seemed to enjoy the comfort of being close. Poor little guy, he seemed to be really confused and I felt really sad.
Today some magic happened. We had tried a few avenues for him but none came to fruition until today. My daughter put him on good old Gumtree and we have now found the perfect owner. He went straight to her and went off without a backward glance. Hopefully a new exciting chapter for Alphie and another chapter for Pat.
Ad. Article continues below.
To write for Starts at 60 (and potentially win a $20 voucher), send your articles to our Community Editor here.