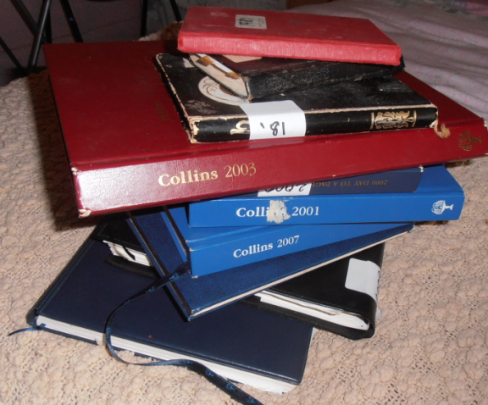 Do you keep a diary or a journal?   I do; I have assorted books that date from about 1970, scrappy little books with squiggles and fashion drawings in them, larger books a page a day with shopping lists, recipes,  poems, pain, angst, longing, rage, despair, sadness – all recorded. My entries were made when I was angry, or desperate, or even just because I enjoy recording things.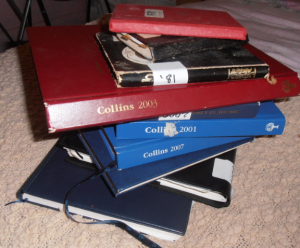 An excerpt here:
Written when I was 65 in 2004. I was working as a care assistant and cleaning a school.
"6am and   I am sleep-walking to the kitchen, make tea, feed the cat and climb into my sensible shoes and uniform. I pin on my badge and get to the hospital before 7am for 'handover'. The usual wounds, and  bowels to deal with.
Ad. Article continues below.
Next 8 hours I shower residents, help with dressing, deal with wounds, and generally assist. Another handover this time, to afternoon shift, starting at 2.30.  Had some giggles with the other girls at lunchtime.  Nurses have a good sense of humour. 3.30pm; Then it's time to wander home in the late sunlight, looking at the lovely gardens in Nicol Street but had no time to enjoy it. Brian gets home at four, I throw a casserole in the oven, and we head to the school.
Hate the football season!!  When I looked in the toilets my heart sunk, the budding AFL stars have covered everything in a nice shade of mud. We work well together, as husband vacuums I get to work with the mops and cloths.  Winter started to bite as my hands froze today, got home to a perfectly cooked casserole and had a naughty slice of apple pie, the diet starts tomorrow, -always tomorrow,
Half watched some TV tonight, and with the warm fire I found it hard to keep awake, anyway that darned alarm is set for 5.45. again tomorrow…. Glad when the weekend comes as I only have one shift."
In the year we married,  1959, we kept a diary for six months, both writing in it,  that didn't last did it? The battered old diary  is falling apart now, yet it is a wonderful insight into our younger selves, the innocence is refreshing. We were so trusting, so full of hope.
Ad. Article continues below.
Later diaries make me laugh, when I read of the staggering amount of cooking I did while the family was growing up, of the shirts I ironed (over 1000 a year)—( because my husband and boys changed three times some days.) The records are boring, listing what we bought at the grocery, how deep the snow was, what the dog ate. How much lunch cost, what I had for Christmas. Clothes we wore to a party, then if we had a hangover. There were quite a few hangovers in those middle years! Our party years well represented. Lots of G and T and Martini, and parties every weekend so it seems.
On a serious note I used my diary as a confessor, as my analyst even. When my father was ill, I was  sure he had something serious, we didn't find out until months later, but in my diary I had already questioned the doctors reports; recorded the indisputable evidence;  the solution was clear to me, I knew this was not getting better, but I only told my diary.  I kept quiet about my fears.
Ad. Article continues below.
It helped me to work out emotional problems, then later the 'war zone'of teenage disasters became a subject I ranted about. It was easier to write than talk at times.
So the forty or so journals and diaries I have sit in a wardrobe.  Full of all those words, those tears, that pain. The happiness, the weddings, the breakups, the divorces, the friends who died, the animals we loved.  Now what do I do with all those journals? do I really want people to read them? Shall I put them in a trunk to be opened in 40 years? Or do I make a funeral pyre. What will you do with yours?