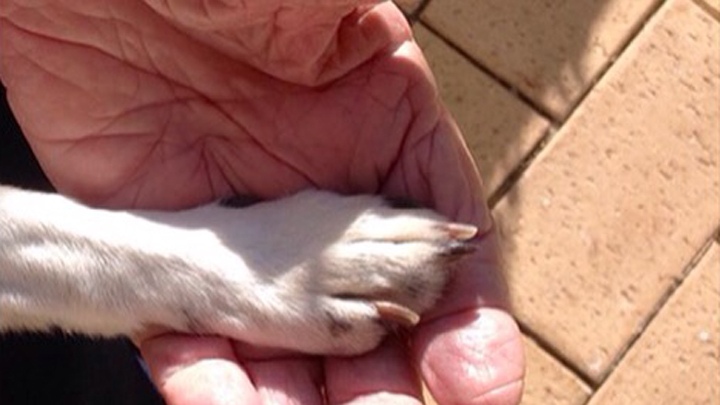 G'day my name is Blitzen! Now, you will be thinking who in their right mind would give their little girl such a ridiculous name, but it wasn't really my Dad's fault. I was about two years old when he adopted me and I was frightened of my own shadow. Dad didn't really care about my name, he just wanted to take me home from the pound, and that day was the start of my second life. It was easy to trust Dad and we had a great life. I got pats and cuddles and car rides, every day was good but after 12 months Dad's work dried up and he had to move states. I was a bit anxious because I would miss him. I had to stay with his flat mate; he was a cool dude and treated me well but after a couple of years he told me he was moving to another country.
Dad put me on a plane to come and live with him and his new family and that day was the start of my third life. They already had a boy dog called Mister Zeus and we got along really well; we played together for years. He was 16 years old when he went to Rainbow Bridge. That was a very sad day. Dad laid in the front yard with him and watched one last sunrise before Mister Zeus went to the Bridge.
Mister Zeus was ball crazy and every time Dad threw the ball I would run like the wind beside him barking my tiny head off. I didn't want the ball, I just wanted to run and make a lot of noise because I loved the sound of my own bark.
Ad. Article continues below.
I don't think I have barked at all since he went to the Rainbow Bridge. It's very sad to lose your best mate and I wasn't happy at all. Dad was getting worried about me so after a couple of weeks the family took me to the pound to find a new best friend. I did find one and we played really well together. He was just a pup and a bit annoying but we had some fun. I could not believe my eyes when Dad put him in the car to come home with us. That was not supposed to happen and that day was the start of my fourth life.
I was not happy about having to share my yard with the new pup. Playing was fun but I am old and I get tired quickly. Anyway, to cut a long story short, I lost my temper and I attacked him. Needless to say Dad was not impressed with me and it wasn't because the vet bill was $900, he was upset because I decided I didn't like the pup. So I had to come live with my Nanny, and that day was the start of my fifth life.
Dad had this bright idea to reintroduce me to the pup but I didn't see the point as I already knew who he was and I knew I didn't like him. I can't share a yard anymore, I am too old and cranky and the pup is very annoying. I don't know what they are feeding him because its only been two weeks since "Blitzygate" and he is already twice my size. Besides, I am settled here now. It's like I am in retirement and after all the family is only six houses away – they can come visit me whenever they want.
Now you would think having to move again would be stressful, but it has been quite the contrary. Why would I not love it here? I have a treat when I feel like it – I have chicken or steak for dinner, Nanny cuts it up very small so I can eat it she also gives me a raw chicken wing for my stinky breath and she has put that many blankets in my kennel that I worry about altitude sickness when I climb in. My uncle is always up for a cuddle and Great Grandma likes to sit in the sun with me, she does her crochet. I have no problem with that as long as she stops every few minutes and gives me a pat. She hates her hands, I don't know why, they feel good to me. She is 91 years old – I am not sure how old that is in dog years – but we are both older than most.
By Blitzen Massey