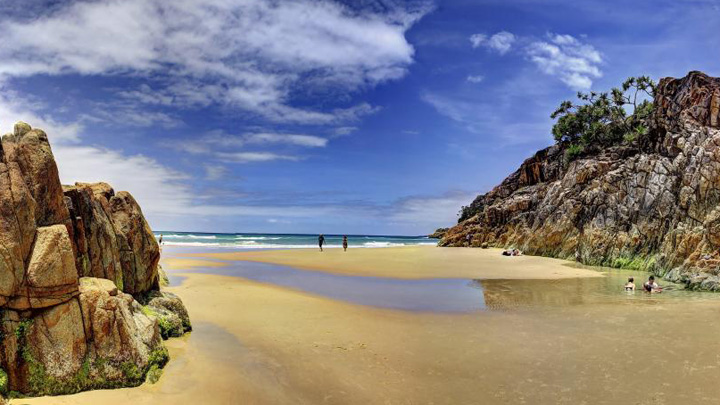 The Blue Arsed Fly is a wonderful grey nomad travel series by Bruce Hathaway and his wheelchair-bound wife, Elaine. If you'd like to read his previous blog, you can find it here
We stopped and had lunch at the Heritage hotel – standard pub fare – Mother had bangers and mash and I had the ubiquitous egg and bacon roll with chips – $20 the lot. They didn't have a disabled loo so I had to go in and help Mother while one of the bar maids stood outside so as not to scare the locals. This wasn't the first time I've been in the ladies loo, happens all the time with a disabled person. After lunch we took an alternative road back to Coffs Harbour and a lot of the road is dirt and windy; maximum speed about 30 clicks. It certainly is a scenic drive back but I had my eyes on the road the whole time. All up it took about 4 hrs for the round trip' when we got back, we drove around the harbour and area. If you like fish or seafood, that's the place to go for your tucker.
Off again, this time to South West Rocks – about 100 km south of Coffs Harbour. We stayed at the South West Rocks CP, a Top Tourist park; $36 p/n with discount. It was a plain sort of park with some slab sites – we had a double slab – you can also have grass and sites next to the McLeay River; amenities are very good with disabled facilities. Next day: the usual drive around and see the sights, beaches galore and well attended. Then to the Trial Bay Gaol ruins, this place is worth a squiz at – wasn't in operation for long and then was used to house German Australians during WW1. Getting into the car we spotted some whales playing out in the bay; an unexpected joy to see. Next was the trip to the lighthouse, a few steps up and a splendid look out over the briny and the land as well. Went for lunch at the Riverside Tavern – standard pub fare, they had seniors meals for $10.
The last day was for doing the chores, washing, etc. etc. etc., you know the rest.
Thursday: we were off this time to Forster where we stayed at the North Coast Holiday Park. Depending whether it's a weekday or weekend $54/65 p/n, we had a double slab sight next to the marina and river, amenities were good but they have timers on the hot water so you can't stand there for hours. We dropped anchor and moored the caravan then went you-know-where, got all the info and then went for a tour of Forster. Nice beach area with life savers, we bought rolls for lunch (isn't that interesting) and parked at the beach where once again we spotted a whale with its calf going upstream. Actually I would have thought they'd be going downstream to the Antarctic! We drove along the beach road, stopping here and there looking at the sights. On the way back, we went past the caravan park where you can park by the head of the river, there's a nice path where you can take a wheelchair to the head of the river for Mother to have a gander.
Next day: drove north to look at the beaches at Diamond Beach and Red Head, wasn't much to see, the best beach to look at without having to get out of the car and walk was at Black Head.
Saturday came and we went to the Forster Bowls club for lunch, they have a $8.50 all you can eat on one plate Chinese buffet. You never saw so much food on one plate before as you can't return to the trough once you've eaten the food. Good selection of chinese, fish, chicken and salads, the liquor (wine) was cheap as well. So after having our snouts in the trough we went for a drive south for 25 kms or so, to a place called The Palms, wasn't much to see so we came home again.
Have you visited these areas before? What did you get up to and what was your favourite part? Where is your favourite beach? Tell us below!