You won't believe what Grace Jones did on stage last night!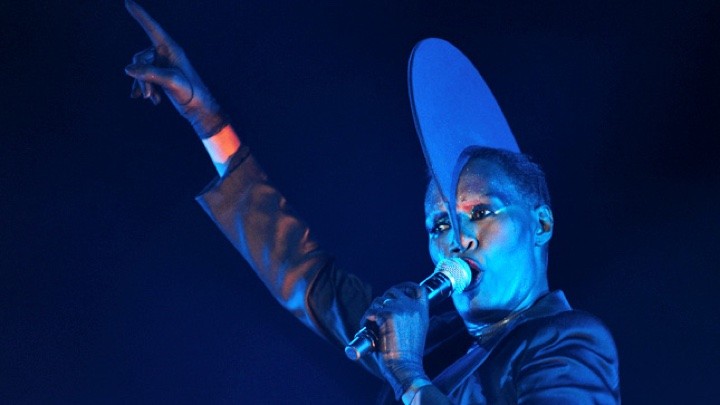 Grace Jones has never been a shy performer. And at 67, she's more comfortable in her own skin than ever before.
Performing at yesterday's Parklike festival, the Jamaican singer-songwriter stepped onto stage with a gold skull mask and a black robe – which she quickly shed to reveal… almost nothing but body paint.
Wowzers. Grace Jones looked *incredible* in body paint at Parklife http://t.co/ZZ92fnjWh5 pic.twitter.com/SnweB7qxE7

— Digital Spy (@digitalspy) June 8, 2015
She gave a similarly spectacular performance last month in Sydney at the Vivid festival, to wild crowd acclaim:
Goals. | Grace Jones, 67, sings topless as part of the Vivid Sydney celebrations http://t.co/nqWNB0IBUL pic.twitter.com/Mr1DAJggGX

— Total Recall Vintage (@TOTALxRECALL) June 1, 2015
Ad. Article continues below.
Her vocal range has been similarly untouched by age; Jones still has a stunning two-and-a-half octave range, meaning she can effortlessly switch from the highest of high notes to the deepest of lows.
Of course, last night's performance is far from out of the ordinary for Jones, who has always been a confident and unconventional performer. Here she is four years ago, performing her 1985 hit Slave to the Rhythm while effortlessly hula-hooping throughout.
She has never shied away from lively controversy, either: back in 1981, she made headlines with this UK chat show outburst, which a poll of British voters recently dubbed "most shocking chat show moment of all time"
Ad. Article continues below.
.
Has Grace still got it? Do you find her body confidence inspiring, or confronting?
.
.