"You pompous buffoon": New song slams Cardinal Pell's absence from court hearing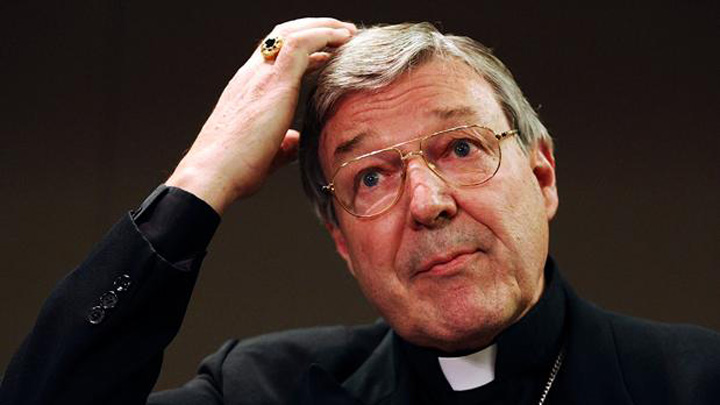 Whether you like him or not, Cardinal George Pell is the highest-ranking Australian cleric in the Catholic Church, and so when someone creates a song about him, it's bound to cause a big reaction.
And that's exactly what's happened. Comedian Tim Minchin, composer for the Matilda musical and various other stage shows, has written and performed a song about the cardinal.
The provocative song in which he calls Cardinal Pell scum, a coward and a pompous buffoon has been largely supported online after it featured on The Project last night.
The Project co-host Steve Price was not happy about the screening of the strong song, and said it was "disgusting".
"Obviously, Tim Minchin feels really strongly about that, but I just think it is really disgusting the way he has resorted to personal abuse of George Pell," Price said, reports SMH.
Ad. Article continues below.
"He has called him a coward, scum and a buffoon.
"Now this guy is the most senior Australian Catholic in the world. He is a Cardinal, regardless of what you make of it.
"To use your talent to just simply abuse someone from a distance, I think it is pathetic".
Minchin wrote on his website, "The whole thing stinks to high hell, and many people in Australia are very, very angry … not least of all the survivors in Ballarat, where abuse was sickeningly rife".
"Pell was born and educated in Ballarat, and at one point actually lived with Gerry Ridsdale, one of the most prolific (and allegedly protected) pedophiles in Australian history.
Ad. Article continues below.
"The church in Australia (like elsewhere in the world) knew of the actions of many of their priests, and rather than going to the police, shuffled them from diocese to diocese, facilitating their abuse rather than arresting", he said.
Here are the lyrics and the video, which references the allegations against Cardinal Pell and his lack of sympathy for abuse victims. He begs the Catholic priest to come home and face the music, and to "frickin' sue" him:
"It's a lovely day in Ballarat, I am kicking back, thinking of you"
"I hear that you have been poorly, I am sorry that you are feeling blue.
"…But a lot of people here really miss you Georgie, we really think you ought to just get on a plane. I am sure they will make you feel welcome at the pub in Ballarat, they just want a beer and a chat."
Ad. Article continues below.
"I mean with all due respect dude, I think you are scum and I reckon you should come home," Minchin sings.
"Cardinal Pell, I know that you are not feeling well, perhaps you just need some sun. It is lovely here you should come home.
"You pompous buffoon, and I suggest you do it soon."
"Oh Cardinal Pell my lawyer just called to tell me this song could get me in legal trouble.
"Oh well, if you don't feel compelled to come home by a sense of moral duty, perhaps you will come home and frickin' sue me".
Share your thoughts below.