'Yes we did': Obama's final speech as US President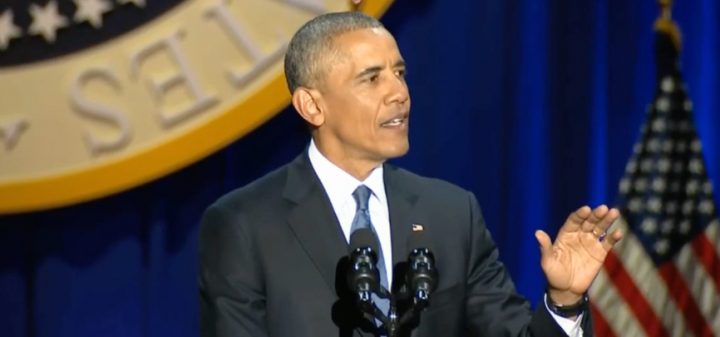 It was an emotional evening in the US as President Barack Obama took the stage for his last speech in the top position in the country. President Obama decided to have the speech held in Chicago where it all began for him just over eight years ago.
President Obama was quick to thank all of those that have supported him during his two terms as President saying, "Michelle and I have been so touched by all the well-wishes we've received over the past few weeks. But tonight it's my turn to say thanks. Whether we've seen eye-to-eye or rarely agreed at all, my conversations with you, the American people, in living rooms and in schools, at farms, on factory floors, at diners, and on district military outposts, those conversations have kept me honest and inspired.
"You've made me a better president and an even better man."
When he mentioned handing over the job to Donald Trump, there were audible boos that didn't make him happy. He cut them off as soon as they started saying, "No, no, no". He added, "The peaceful transfer of power from one freely elected president to the next, I committed to President-elect Trump my administration would ensure the smoothest transition, just as President Bush did for me
"Because it's up to all of us to make sure our government can help us meet the many challenges we still face. We have what we need to do so. We have everything we need to meet those challenges. After all, we remain the wealthiest, most powerful and most respected nation on Earth. Our youth, our drive, our diversity and openness, our boundless capacity for risk and reinvention means that the future should be ours. But that potential will only be realised if our democracy works. Only if our politics better reflects the decency of our people."
Ad. Article continues below.
President Obama thanks his wife, First Lady Michelle Obama, and his children before praising a clearly emotional Vice President Joe Biden saying, "To Joe Biden, the scrappy kid from Scranton who became Delaware's favourite son: you were the first choice I made as a nominee and the best. Not just because you have been a great Vice President, but because in the bargain, I gained a brother. We love you and Jill like family, and your friendship has been one of the great joys of our life."
They did embrace on stage after the speech but Biden's reaction to Obama after his warm words was legendary Biden.
Did you watch the speech? What did you think of it? If you missed it you can see it in full below: