Yep, that's a 2m+ crocodile loose on the streets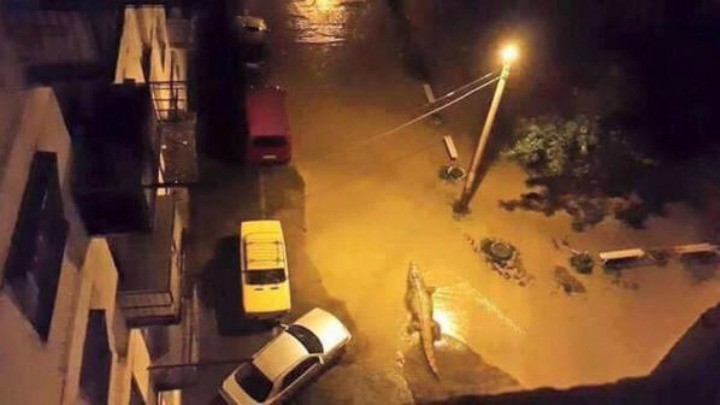 Residents of Tbilisi, the capital city of Georgia, have been warned to stay indoors after flooding destroyed enclosures at the city's zoo, releasing lions, tigers, bears, wolves and other animals to escape and take to the city streets.
Three zoo workers are among the eight people killed in the floods, which also damaged houses.
The images below show the capture of  an escaped hippopotamus in one of the city's main squares. Animal handlers and police used tranquilliser guns to subdue the animal.
While some of the escapees have been captured, others were shot dead, presumably terrified and therefore extremely dangerous.
Ad. Article continues below.
The zoo estimated that around half of its 600 mammals, fish and birds had fled their enclosures amid the flooding from heavy rains and high winds, according to al Jazeera newspaper.
"It's so surreal. Helicopters are circling overhead and they've warned people to stay indoors but not everyone's doing that," a journalist said.
"People are walking around with their babies just a few blocks from where a wolf was shot in the south of the city. Apparently a jaguar was reported in the north. Until somebody gets mauled or killed, no one's going to panic."
About 1.1 million people live in the capital.
Ad. Article continues below.
Georgia zoo animals roam capital's streets after mad-dash flood breakout – TVNZ: ABC… http://t.co/Nc0sCtMvI5 pic.twitter.com/3GN75Q0hlS

— Doyle Global Media (@DoyleGlobal) June 14, 2015
Major flooding in the country of Georgia kills 10 and destroys zoo, allowing for animals to roam streets. pic.twitter.com/XUa9HCC4Jr — Michael Skolnik (@MichaelSkolnik) June 14, 2015
Ad. Article continues below.
Can you believe people are walking around trying to spot these animals? What would you be doing? 
Photos: Twitter