World unites over pasta dish to help Italy earthquake victims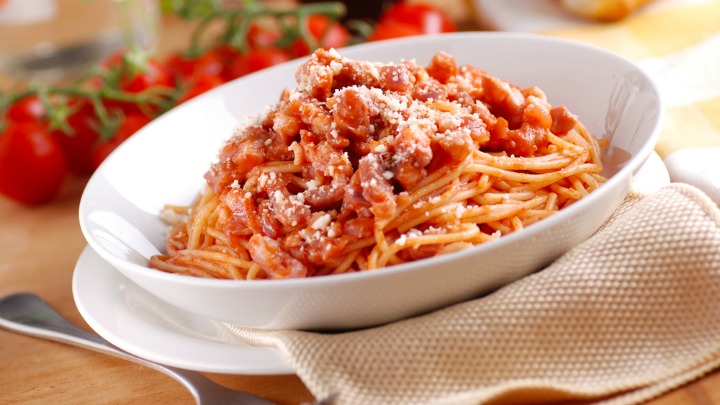 There's a pasta dish that's appearing on menus around the world, and it's not because of some new dietary fad or because it's all the rage in the food world. No, this pasta dish has been around for decades, but it has resurfaced for a beautiful reason.
You've probably tasted it at least once in your life, licked your lips at the end in utter ecstasy, yet had no idea it came from Amatrice, the "town that no longer exists".
Spaghetti all'Amatriciana, an iconic Roman pasta dish, might have the power to resurrect central Italy from the devastating earthquake that caused almost 300 deaths.
Hundreds of chefs from around the world are putting Amatriciana on their menus to raise money for quake victims.
Made with cubes of fried crispy pork cheek called guanciale, fresh tomato sauce and onions, it's served with either long pasta such as spaghetti or bucatini, or short pasta like penne-style bombolotti (mainly served in the Rome). A shower of grated sheep Pecorino cheese is sprinkled on top.
Ad. Article continues below.
Its birthplace was Amatrice — close to the epicentre of the earthquake — today a heap of broken stones and dust.
Restaurants and pizzerias around the world are rushing to adopt this now homeless pasta dish, with a percentage of proceedings from the sale of each Amatriciana dish donated to the quake-struck towns.
Many Australian restaurants are taking part, thanks to the Council of Italian Restaurants of Australia, spearheaded by Sydney-based chef Giovanni Pilu of Pilu at Freshwater.
Hundreds of Italian towns are hosting Amatriciana food fairs in sign of solidarity now that Amatrice is a ghost town. Locals are sitting out until dawn on piazzas, gulping down huge quantities of the culinary treat, happy that their money will be well invested.
The food campaign has been dubbed "One AMAtriciana for Amatrice's Future" and plays on the pun "ama", meaning "to love" in Italian.
Ad. Article continues below.
To raise even more money, world chefs are coming up with the weirdest twists of the dish. They've launched experimental recipes for Pizza Amatriciana, Amatriciana pagnotte (huge sandwiches stuffed with overspilling tomatoes and pork cheek), flambé versions with a creamy mix and Amatriciana salads.
Money raised for the earthquake fund by chefs around the world, serving up Amatrice's famous pasta dish, will go a long way to help people here. Locals also hope it will remind people of the rustic food and rich culture for which this part of Italy is so famous.
What do you think of this initiative? What is your favourite gift from Italy's culture?