Women in Cabinet... For womens' sake!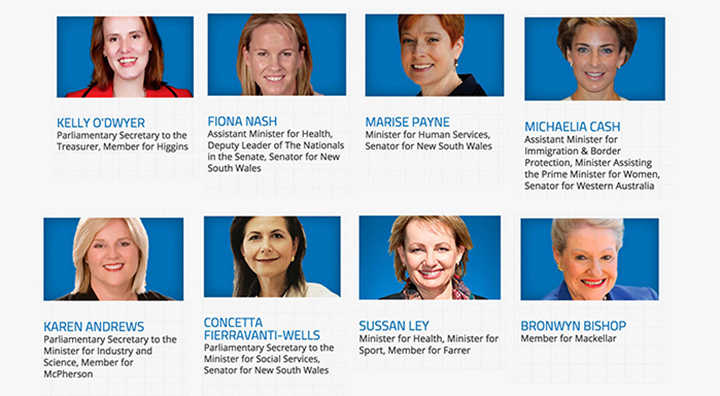 Malcolm Turnbull, our new and suddenly enormously popular Prime Minister is expected to announce his Cabinet today and all anyone can talk about is "how many women will be on it?".  Will he elevate women to the outer ministry of Parliament so they can be seen in the foreground of Liberal politics more?  Will he up the numbers of women on the leadership team from 2 to 4 as is rumoured?
But more than that today I want to ask "should he?".  Do we want women there because they fulfil his "quota" or do we want women who have grown the right skills to do the right job for our country?
Tony Abbott was, quite frankly, sandbagged for failing women in politics.  For the first half of his term he had just one woman, Julie Bishop, on the Cabinet as Foreign Minister, later adding Sussan Ley in Health.  Both are expected to survive Turnbull's reshuffle today, after all, there isn't many women in the Liberal party to play with.
Fairfax Media is reporting that Human Services Minister Marise Payne and Assistant Immigration Minister Michaelia Cash will both be elevated from the outer ministry and into cabinet, doubling the number from two to four.
Others thought to be in the line for opportunity include Turnbull supporter Kelly O'Dwyer and the conservative Concetta Fierravanti-Wells. But there is some talk that they will go into the outer ministries, being elevated from Parliamentary secretary roles. Are you pleased to see the women getting some attention?
Ad. Article continues below.
I'm not really a traditional feminist.  I can see that feminism in its truest forms played an enormous role in the evolution of society to what we see today, an environment where women can do anything.    I stand, in today's world for women by merit, that is, a woman who works hard should be able to earn their place in business, opportunity or life.
But sometimes, we women have to stand together to draw attention to the merits we have, so opportunities shine through.
What do you think?  Should women in Cabinet be a quota or should they get there on merit alone?  Is it time we gave a few a big opportunity to show the country what they can do?