Women dying at the hands of men - an awful epidemic that has to stop #stopkillingwomen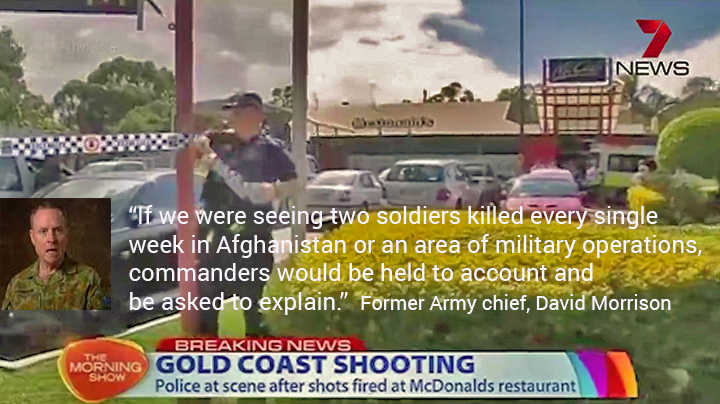 This week there was so many cases of violence and death of women that you likely didn't hear about them all. Two women in a week have been killed through family violence in the Gold Coast. More have been horribly injured. It adds to an awful year of 62 violent womens' deaths for Australia, but the screaming by women in media and politics is not loud enough for anyone to hear it seems. We have to all stand up and scream for protection in family violence it seems for anyone in government to listen, so that's what we want to talk about today. What do you think is the best way to turn the heat on our politicians and police to deal with this epidemic that seems to only be getting worse and worse as months go on?
On Thursday, 49 year old Karina Lock, 49, was allegedly shot dead in a Gold Coast McDonald's restaurant by her estranged husband, Stephen, who then turned a gun on himself.
Also on Thursday, young mother Tara Brown, 24, died from an awful head injury allegedly inflicted by the father of her child, Lionel Patea. He is alleged to have run her off the road and beaten her with a metal bar until she was near death. What makes it worse is just a week before she had gone to police and sought protection and they told her to go elsewhere.  The media described it passively as a "road rage incident".  It wasn't.
Hours before Lock's death, according to the Guardian, Brisbane woman Zarah Farah Abdi was allegedly attacked with a machete by an ex-partner, who was subdued by neighbours with a wooden table leg and a wheelie bin.
Ad. Article continues below.
This night before, in another corner of the Gold Coast, a 27-year-old woman turned up to hospital in a taxi with a gunshot wound to her buttocks.
Another woman is in a critical condition in a Victorian hospital after being stabbed earlier this week. Suspicion continues that it too is domestic violence.
5 women died this week due to domestic violence and it seems our politicians and our police can do nothing to protect them.  Tara Brown's case is horrifying for all of us because she even pointed out to them that she needed help, and was denied it.
We have to ask ourselves today, what can we do about it to bring it into the spotlight.  With 62 women dead in less than a year, and the number up 50% from last year, our society needs a significant second look. Former Army chief, David Morrison called out last month.
"If we were seeing two soldiers killed every single week in Afghanistan or an area of military operations, commanders would be held to account and be asked to explain."
Ad. Article continues below.
Queensland's Courier Mail has run a powerful feature this weekend showing stars of politics and television standing up.  But what will really make a difference is if real people in our society stand up.
Who gets to explain this though and do something about it?  Should it be the Police Ministers in every state?  Should it be the Federal Minister for Social Services, Scott Morrison, who is responsible for mental health, families and children's policy?  No one else comes to mind.  There is no minister for women nor a logical place we can all reach out to to say "Enough is Enough!"
On behalf of the 62 women this year that have died and the tens of thousands facing awful and unmanageable circumstances, it must be time for us to combine our voices and say stop the violence against women across our country.  As the mature and experienced voices… it's our obligation to make people act on every frontier.
What do you think can be done? We need to send a message and the best way might be with social media and your voices to help bring some attention to this horrible issue.
Hashtag with your response today two different hashtags.  #stopkillingwomen #weneedaction