More women are marrying themselves in break from tradition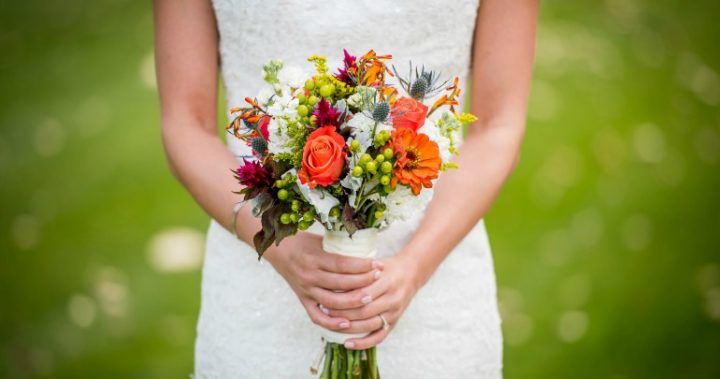 Marriage may have once been all about a bride and groom standing in front of an altar and exchanging vows.
But while many still keep with tradition, more and more women are breaking from it and finding their own happiness – by ditching a partner altogether, and vowing to stay faithful to themselves in sickness and in health.
The practice, known as sologamy, has seen several brides across the world stand in front of their nearest and dearest and vow to remain true to themselves, and themselves alone.
Two years ago, in May 2015, Sophie Tanner from Brighton, England, chose to pledge her undying love to herself in a small and intimate ceremony.
Keen to enjoy some of the older traditions, Sophie chose to throw a bouquet, cut a cake and even enjoy a first dance.
Ad. Article continues below.
Explaining her decision, she told the BBC in a first person piece: "I don't need to put up with bad men, or to be constantly chasing 'The One'. Perhaps I am 'My One'."
Meanwhile, 40-year-old Italian fitness trainer Laura Mesi said 'I Do' alone in her own "fairytale without a prince" earlier this year, the BBC reports.
Laura had the idea after her 12-year relationship ended.
"I told friends and family that if I had not found my soul-mate by my 40th birthday I would marry myself," she told La Repubblica newspaper at the time.
Ad. Article continues below.
"If one day I find a man with whom I can plan a future I'll be happy, but my happiness does not depend on him."
She's not alone, as Vancouver food critic Alexandra Gill, 47 made the same bold decision in 2006, joining an ever-growing group of women who are swapping the old traditions of marriage for independent happiness.
Read more: This woman just got married… to herself.
She previously told the Daily Telegraph: "Our mothers and grandmothers didn't have the choice to remain single… Self-marriage is an opportunity to celebrate our personal independence, self-reliance and freedom from the chains of convention."
Self-marriages are not legally recognised by any official bodies, but more and more women are choosing to hold their own ceremonies to mark their love for themselves.
Ad. Article continues below.
Erika Anderson, 36, described her own decision to marry herself as an "act of defiance", after marrying last year with a solo vow.
"I think women marrying themselves might seem incredibly threatening because it looks like we're saying men are irrelevant," she previously told Vogue. "But we're actually just saying that we matter."
While sologamy is still a relatively unknown practice, it's attracting more and more women across the world, as they break away from traditional nuptials. 
What do you think to sologamy? Do you think it's a good idea for women to marry themselves?