Woman who made racist slur against Michelle Obama has been reinstated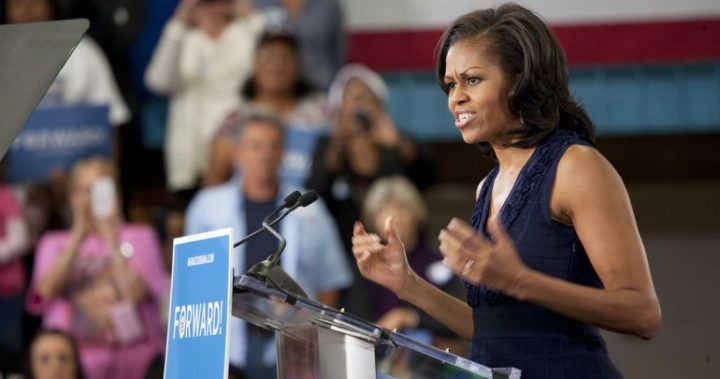 You might remember reading last month about a woman who called Michelle Obama "an ape in heels" on Facebook?
Many of you were disgusted by her comments and called on her to be sacked.
You'd think that a racist comment against the First Lady would be enough to get you fired?
Read more: Social media post about Michelle Obama causes outrage
Well, despite her comments, it looks like Pamela Ramsey Taylor is heading back to her job next week.
Ad. Article continues below.
It turns out, the director of the Clay County Development Corp was only suspended from her job – not fired.
We're so used to hearing about people who have been fired over something they've said on Facebook, it happens all the time.
In fact, it happened just last week the actress who played Cindy Brady on the Brady Bunch.
Read more: Brady Bunch actress under fire over slur against gay actor
So, why hasn't Taylor been fired?
Ad. Article continues below.
According to a letter from The Clay Country Development Corp's acting director, published in the Charleston Gazette Mail, Taylor is returning to next week.
She's being reinstated because her 'ape in heels' comment was "made outside of the agency on a personal social media post on personal time".
"It will be refreshing to have a classy, beautiful, dignified First Lady in the White House. I'm tired of seeing an ape in heels," Taylor wrote in the post after the election, that was later deleted.
Apparently, according to reports in the Sydney Morning Herald, Taylor is vowing to sue people who have "slandered her".
Ad. Article continues below.
She's also described the response from people across the world as a "hate crime against me.
Her fate is different to the mayor of a nearby town, Beverly Whaling, who was forced to resign after commenting on Taylor's post.
An online petition signed by almost 200,000 signatures called for both women to resign.
What do you think about this? Should Pamela Ramsey Taylor have been fired over her comments?