Winton's popular nomads pitstop Waltzing Matilda Centre goes up in flames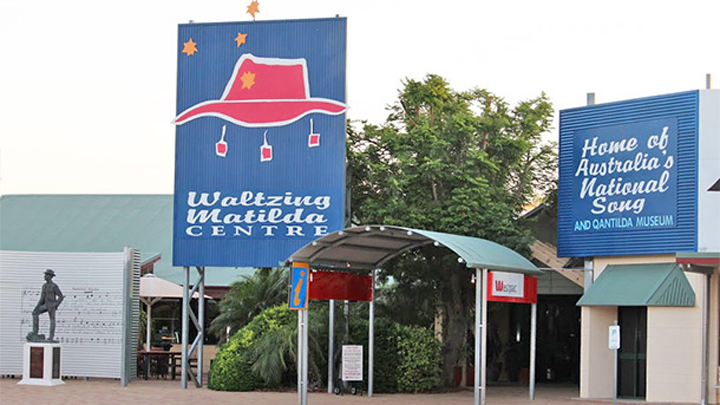 In a horror week for fires, another tourist stop has gone up in flames. The Waltzing Matilda Centre in Winton (near Longreach) has been reduced to ash in the early hours of this morning.
It's a popular pitstop for nomads and travellers alike, and is the home to a number of historic displays, including a World War I exhibition.
At 2am this morning, firefighters were called to the centre to find the tourism complex gutted and the museum damaged by smoke and fire.
Built in 1998, the centre was always the first stop for travellers, and was opened after centenary celebrations for Banjo Paterson's 1895 song 'Waltzing Matilda'
Mayor of Winton, Butch Lenton said the firefighters fought to save what they could but the gallery, kitchen and reception were destroyed.
Ad. Article continues below.
"With the Banjo Room with the war stuff in it, if that there has gone, well, that history will be gone that's for sure.
"You lose a lot of history that you can't regather.
"Unfortunately it is a bit of a kick in the guts but we will tough it out and keep going with it.
"It has done some serious damage unfortunately.
"There have been no injuries and we are grateful for that, but unfortunately you lose a lot of history which you can't regather", he told the ABC.
Ad. Article continues below.
Winton Shire Council's John Elliott said the community is devastated as the Waltzing Matilda Centre is a massive area and "it would appear that it is all gone," he said.
It is not yet known what started the horrible blaze.
Have you ever visited the Waltzing Matilda Centre in Winton? What are your memories?
A fierce fire has ripped through an iconic tourist attraction in Winton this morning. #9News pic.twitter.com/c9umLrnRLg

— Nine News Brisbane (@9NewsBrisbane) June 17, 2015
Ad. Article continues below.
#BREAKING: The iconic Waltzing Matilda visitor centre in Winton, QLD has burnt to the ground overnight. #Today9 pic.twitter.com/zjfrsbzHZf

— The Today Show (@TheTodayShow) June 17, 2015