Our gorgeous royals get courtside advice from the stars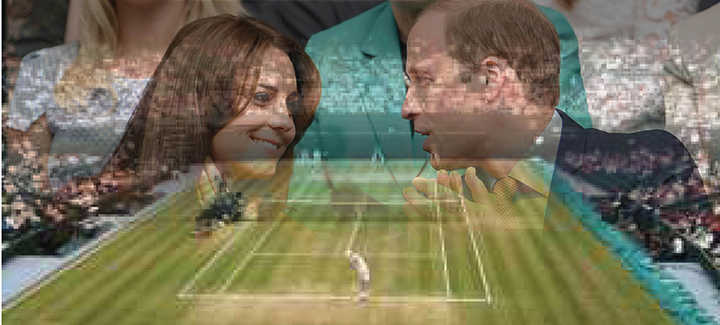 Last night was a huge match for the Brits at Wimbledon, with local hope Andy Murray on court one. And a huge match means a a celebrity-rich crowd, including Prince William and Kate, Duchess of Cambridge.
If Wills and Kate were not enough star power, the Royal box was full of notable people. Accompanying the young Royals were the Duke and Duchess of Kent, and Sophie Countess of Wessex.
Sprinkled in amongst the royalty were former tennis players Billie Jean King, Pam Shriver, and Richard Krajicek. From the world of TV was survival expert Bear Grylls, and, not too far away, was football royalty David Beckham, and his young son Romeo.
All would have been well-pleased with the result of the main match for the session. Local by, and 2013 Wimbledon champion Andy Murray played Canadian Vasek Pospisil, winning 6-4 7-5 6-4, in a match that lasted a little over two hours.
Who's left in the tournament?
Ad. Article continues below.
Deep now into the tournament, we are down to the semi-finalists in the Gentlemen's and Ladies' Singles Championships.
Gentlemen's:
Novak Djokovic (Serbia) v Richard Gasquet (France)
Roger Federer (Switzerland) v Andy Murray (Great Britain)
Ladies':
Ad. Article continues below.
Garbine Muguruza (Spain) v Agnieszka Radwanska (Poland)
Serena Williams (USA) v Maria Sharapova (Russia)
The winners will go through to the finals, Saturday night Australia time for the Ladies' tournament, and Sunday night for the Gentlemen's.
Image gallery: Who was there?
Prince William and Catherine, Duchess of Cambridge take their seats. The lady resplendent in red, with William in a winningly-matched red tie.
Ad. Article continues below.
Wills and Kate spurring on the local hope to victory.
Ad. Article continues below.
Kate getting receiving some motherhood survival tips from Bear Grylls.
Ad. Article continues below.
A loving young couple and showing it in front of the world's eyes.
Ad. Article continues below.
Football royalty David Beckham, and young son Romeo.
Image credit: Jonotennis
How much in love do you think Prince William and Catherine look? Do you think they wear red well?