Wimbledon meltdown named biggest sporting hissy fit of the year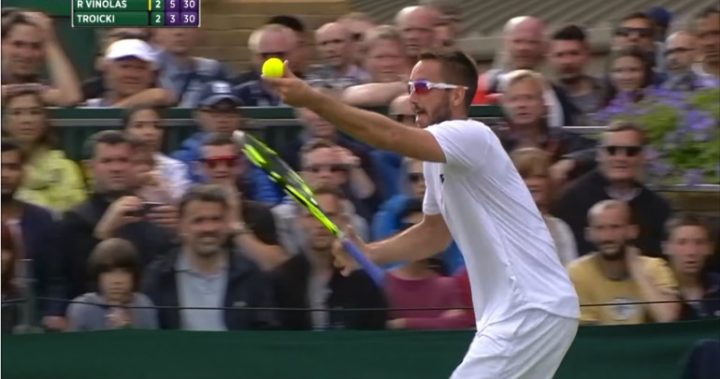 Professional sport can be a stressful, there's no denying that, and this year we saw more than a few tantrums from athletes across a range of fields.
There was Nick Kyrgios' on-court meltdowns and his public spat with Australia's chef de mission Kitty Chiller in the lead up to the Olympics, NRL's Jarryd Hayne's rant comparing himself to Jesus, and Olympic wrestler Mandakhnaran Ganzorig who stripped naked and danced around his opponent after losing his match much to his dismay.
None of them could compare to Viktor Troicki though, who has come in at first place as the biggest tanty thrower of the year.
The Serbian player is currently ranked 29 in the world and was doing his best to take home a win at Wimbledon when he lost the plot after the umpire overruled a line call and called the ball out.
After running over and picking up the ball he erratically waved it around as he marched over to the umpire and unleashed.
Ad. Article continues below.
"Worst umpire ever in the world!" he yelled, much to the crowd's amusement.
With his opponent Albert Ramos-Vinolas awkwardly watching on, Troicki continued to rant and rave screaming at the top of his lungs.
"What are you doing? Did you see the ball? You're so bad. Do you know what you did? Do you know what you did? Do you know what you did? You're horrible," he decalred.
Coming as no surprise to anyone, he lost the match and continued his epic sulk into the afternoon.
Ad. Article continues below.
With so many other big moments in sport this year, it's hard to chose the best and the worst moments.
One of the best though for Australian sport would have to be 18-year-old swimmer Kyle Chalmers who raced home to a gold medal in the 100m Freestyle at the Rio Olympics.
His swim was named as one of the best moments of the Olympics, with the win made all the more sweeter by his schoolmates who stopped classes so they could watch him swim to victory together.
What was you best and worst sporting moment of the year? What do you think of these two moments?