Wild backpacker Christmas party labelled 'un-Australian'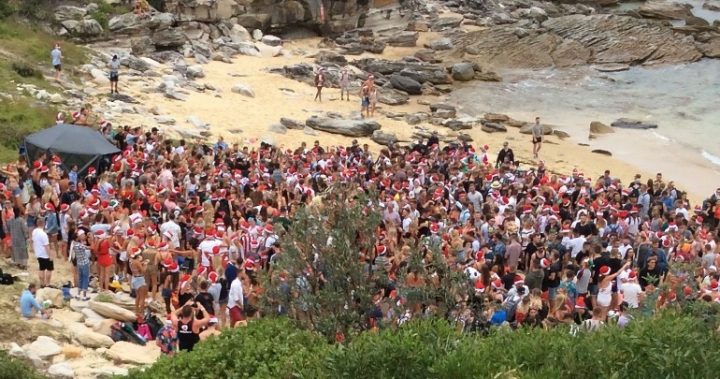 An out-of-control Christmas party at a Sydney beach has been labelled "un-Australian" after two police officers were injured trying to dispel the drunken revellers.
About 3000 party-goers took to the beach at Little Cove in NSW on Christmas Day, many of them reportedly backpackers touring the country for the summer.
Video on Facebook shows police officers pushing two people to the ground; they were later forced to use pepper spray to disperse the crowd.
"My officers were on the receiving end of some alcohol-fuelled violence and it was dealt with swiftly in order to bring the matter under control," Superintendent Karen McCarthy told reporters in Randwick on Tuesday.
"The people at the party were intoxicated, they were obviously in a festive mood and the majority of people were compliant with police actions, however, there was a small, isolated incident."
Ad. Article continues below.
Randwick City Council Mayor Lindsay Shurey praised the police response to the "drunken beach party".
"The police response shut down the party very quickly and helped prevent any serious accidents or major injuries amongst the highly intoxicated revellers," she said in a statement on Tuesday.
"I condemn the behaviour of those backpackers who attacked and assaulted police by throwing bottles – this is un-Australian."
However, one backpacker has defended the actions of his fellow revellers, saying police took it too far.
"I don't get why the police needed to use force," he told the Seven Network. "We're backpackers, we're not going to … fight back against them."
Ad. Article continues below.
Little Bay: "We're backpackers. So, I don't get why police need to use force to be, like, hit us" – Stephen Minshaw speaking to @Channel7. Three people have been arrested after an out of control beach party spilled onto the streets. #LittleBay #7News pic.twitter.com/98VVt809F6

— 7 News Sydney (@7NewsSydney) December 25, 2017
One a UK national and the other from Ireland were arrested at the scene for hitting police officers with bottles.
They will face court on assault charges.
Do we need stricter laws or harsher punishments for backpackers who act up? Or should we cop it on the chin, considering the antics of some Aussies overseas?