Wikileaks announces major new leak ahead of US election day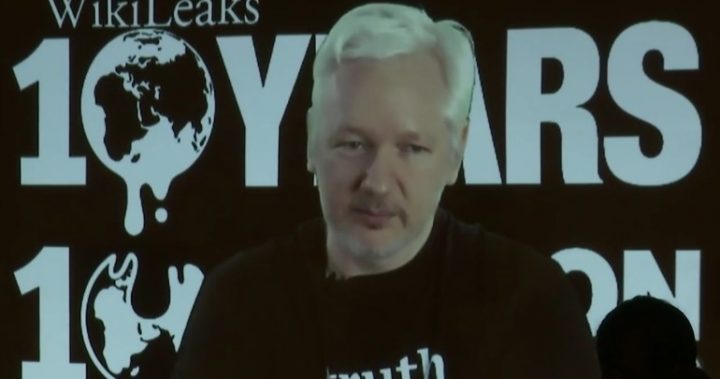 Wikileaks founder Julian Assange says he is in possession of about 1 million documents relating to the US election and three different governments, which he is going to release in the coming weeks.
Appearing at a press conference by video link, Assange said the first batch of documents will be released this week with the rest to follow later.
There are reports circulating that some of the information could be incredibly damaging to Hillary Clinton's presidential campaign with election day just around the corner.
"The material that WikiLeaks is going to publish before the end of the year is of … a very significant moment in different directions, affecting three powerful organisations in three different states as well as … the US election process," he told a group of journalists at an event marking the Wikileaks' 10th anniversary.
Assange is currently holed up in the Ecuadoran embassy in London where he has been for four years to avoid possible extradition to Sweden over allegations he committed rape there in 2010.
Ad. Article continues below.
He says he is also fearful of being extradited to the US, where Wikileaks is being investigated over the massive 2010 leak of 90,000 secret documents on the US-led military campaign in Afghanistan, as well as close to 400,000 US military reports detailing operations in Iraq.
While Assange certainly has his supporters, there are those who say he has grossly endangered the lives of soldiers in the Middle East and damaged relations between countries around the world.
While some argue that it is important for governments to be completely transparent with their citizens, others say some things need to remain confidential for the greater good.
Assange has been condemned by both the US and Australian governments, but still has millions of loyal supporters around the world.
What's your opinion on this?
Is Assange a hero for holding governments and world leaders accountable? Or is just a troublemaker endangering the lives of many?