Why you could soon be paying more money for imported milk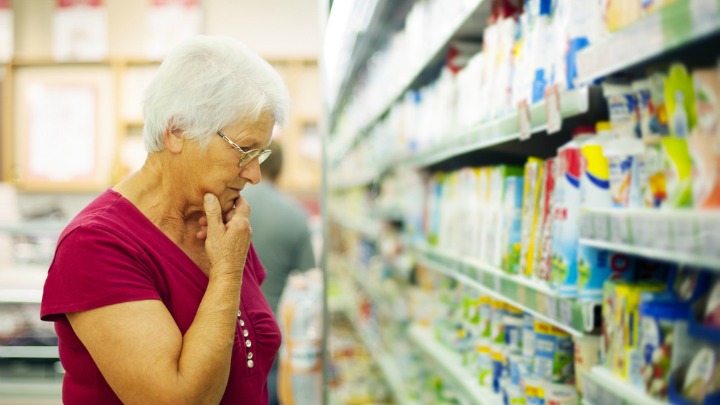 Anyone who has tasted Australian milk and also imported milk can agree that our Aussie milk has an incredibly amazing taste – sweet, creamy, fresh.
Unfortunately, we might soon have to pay more for milk and if the crisis in the Australian dairy industry does not improve, we could end up drinking expensive imports.
This happens as more farmers are shutting down their business as – low milk prices has led them to not even be able to afford water or the fertiliser to grow the grass to feed cows.
The dairy nightmare began at the end of April when Australia's biggest milk processor, Murray Goulburn, slashed the price dairy farmers had been expecting for their milk.
Instead of the $6 a kilogram that farmers had been relying on for their milk solids, they were suddenly told they would be getting well under $5 a kilogram.
Ad. Article continues below.
To add insult to injury, the farmers themselves would have to pay back the difference, a total of around $200 million between about 2,500 farmers.
It meant many dairy farmers were being paid less for their milk than it cost them to produce it — now, sending prize dairy cows to the saleyards for slaughter is the only way many farmers can pay their bills.
Livestock agent Phil McVilly, who deals with many of the local abattoirs, noticed the impact of the milk price cut almost immediately, with a record number of "chopper" cows being dropped off for sale within days of Murray Goulburn announcing its price cut.
Since the beginning of May, this one yard has been selling around 700 dairy cows a week to the abattoirs, and there is no sign of the sell-off slowing down.
Soon after Murray Goulburn announced its price cut to farmers, New Zealand dairy giant Fonterra cut its prices even further, spreading the pain across the whole industry, reports ABC News.
Ad. Article continues below.
For some farmers, it is the end of dairying. One of them is Kathleen Johnston who will be turning out the lights in her dairy for the last time, in a few weeks.
Ms Johnston and her family spent eight years hand-rearing calves to build up their prime herd, but the crisis has led them to have made the agonising decision to give up on their dairy farm in Deniliquin in southern NSW.
Murray Goulburn's price cut this year was bad enough, but the family has also been told that next year they will get even less for their milk; about $4.30 a kilogram.
"The very minute that we got the letter that said that's what the price is going to be, we decided, 'no, we can't keep going like this', that we would finish up," Ms Johnston said.
She and her husband called their stock agent straight away.
"[We] made the phone call to the stock agent and said, 'sell them up'," she said.
Ad. Article continues below.
Ms Johnston said she spent that night crying about the decision, and she is still teary.
"Just the thought of selling your babies … you have pets, so that was hard," she said.
The Johnstons did not have much choice — they farm in tough country.
If they keep dairying, They have worked out that they will end up losing about $70,000 a year.
And at the milk price Murray Goulburn is offering, they will not be able to buy the water or fertiliser they need to grow the grass to feed their cows.
Do you think the government should step in and help our farmers?