Why we all love the People's Prince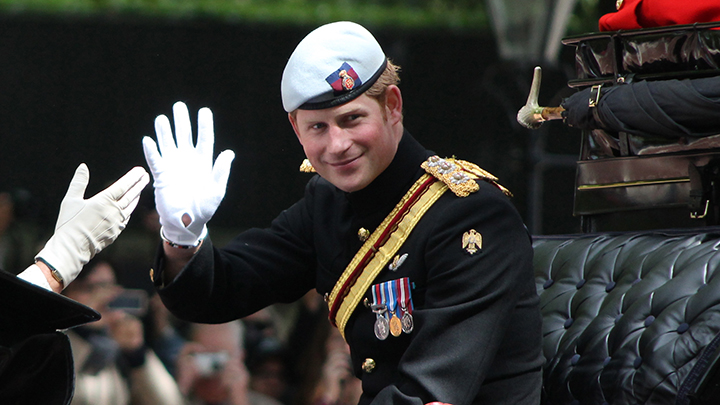 Thousands gathered on the steps of the Sydney Opera House today to catch their last glimpse of Prince Harry, whose month-long tour of duty with the Australian Defence Force has come to an end. Ever since 2003 when Harry spent a gap year working as a jackeroo on Tooloombilla Station in central Queensland, we have adopted him as our own, the troubled young man who came good, and we've simply loved having him home.
Here are just some of the reasons we all love Our Prince Harry:
1. He's so real
» http://t.co/sbnL2KxCdC Prince Harry #PrinceHarry Prince Harry on His New Niece: She Is Absolutely Beautiful 880 pic.twitter.com/7XM0zLIzlc

— Mellisa B. (@mellberr) May 6, 2015
Ad. Article continues below.
During his time here, Harry gushed over his new baby niece, high-fived a kid who greeted him with a sign reading "Redheads rule!", and popped into a bakery for lunch. After his public appearance today, he'll check on the progress of his mate's new legs. Harry has also made mistakes. He's mucked up, been indiscreet and acted, well, normal during his 30 years, and we love him for it.
2. He's single and gorgeous
Ad. Article continues below.
A bachelor prince inspires hope in everyone; we're only human after all! Although royal babies and weddings are great fun, they rule out any chance of a Cinderella moment (hint hint, Harry).
3. He is honourable
Ad. Article continues below.
Prince Harry has served two tours in Afghanistan and proved himself to be a worthy soldier. He is also deeply respectful of Australia's war legacy and attended Anzac Cove in Gallipoli for the centenary commemoration.
4. He reminds us of his mum
Ad. Article continues below.
It's not just the physical resemblance that makes Harry so like his mum, it's his singularity, charity work and his obvious ease with people in all kinds of situations; at the beginning of his trip to Australia, Harry joined wounded Australian soldiers in a game of wheelchair AFL, for example. We all miss Princess Di, but through her youngest son we remember her.
5. He's the larrikin underdog
Crowds are happy #PrinceHarry @abcnews pic.twitter.com/lx0ceQyrRR

— Brad Ryan (@BradRyan) May 7, 2015
Harry has that blend of being a bit down-on-his-luck and extremely good-natured that we Aussies love. He will never be king — with the birth of Princess Charlotte, Harry is pushed down the ranks again to fifth in line — but he laughs easily and will happily ham it up for his fans. We also love him for being a bit of a rascal in his youth yet coming good: the kid who barely made it through school now flies fighter helicopters, take that!  
Is Prince Harry your favourite royal (go on, admit it)? Why do you think we love him so?