Why Trump's supporters won't hear a word against him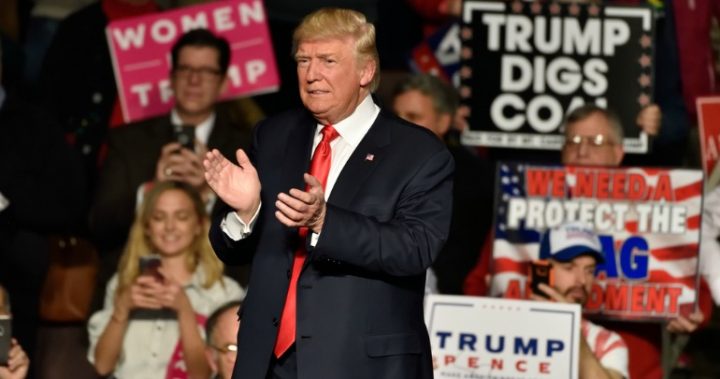 With only two days to go until Donald Trump officially becomes the 45th president of the United States, many are still in disbelief the former reality TV star and business mogul made it this far.
Since being elected into office, Trump has been embroiled in talk about his ties with Russia, committed to a war of words with actress Meryl Streep and been named in a defamation case by one of the women who accused him of sexual assault last year.
Earlier this week, polls revealed he is entering office with the lowest approval ratings of any president in the past four decades.
But still, his fans prevail. It seems that in the eyes of Trump supporters, he can do no wrong.
They don't care about his indiscretions or his volatile temper; to them he is the man that will put their concerns first – the rest of the world be damned.
Ad. Article continues below.
We now know that the majority of people who voted for Trump are from 'middle America'. They are the people that hold traditional values close to their heart and believe more in taking care of your own before trying to take care of everyone else's problems.
There is nothing wrong with this. In fact, it is how the world works. Conservatives and liberals need to co-exist for democracy to work.
What is worrying to many, however, is the way Trump's supporters seem to be spurred on by his often crude language and disregard for any of the political protocol leaders around the world have worked so hard to develop over the past 100 years.
He has rubbished the United Nations, backtracked on election promises, and continued to enter into social media fights with anyone who disagrees with him.
To many, his actions are horrifying. To his followers, they are a breath of fresh air.
Ad. Article continues below.
Trump promised to "drain the swamp" and that's exactly want middle America wants.
People who felt forgotten by the politicians who held different values to them for the past eight years are finally getting their time in the sun.
Trump does not behave like a politician because he hasn't got the first clue in how to do so.
He behaves like an angry citizen who is fed up with political correctness and globalisation and that's why he speaks so clearly to millions of angry voters.
For the first time in a long time, we are about to see a man who has no political experience take a seat at the most powerful desk in the world.
Ad. Article continues below.
If he stays true to his big election promises, he will rid the country of illegal immigrants, severely reduce the amount of muslim refugees entering the country and flush corruption and back door deals out of Washington.
These kinds of policies aren't just appealing to those living in America, they're looking more and more attractive to people around the world who are fed up with their own politicians.
There are plenty of people in Australia who would love to see dodgy dealings and immigration laws changed, but would they be willing to elect someone like Trump to do it?
While expectations for Trump's presidency are low, one can only hope he defies his critics and makes real progress and positive change for all Americans.
After all, like it or not, the world depends on it.
What do you think Tump's presidency will be like? Are you rooting for him to succeed? Or are you worried about our future?