Why is this common sign of ageing good for men and bad for women?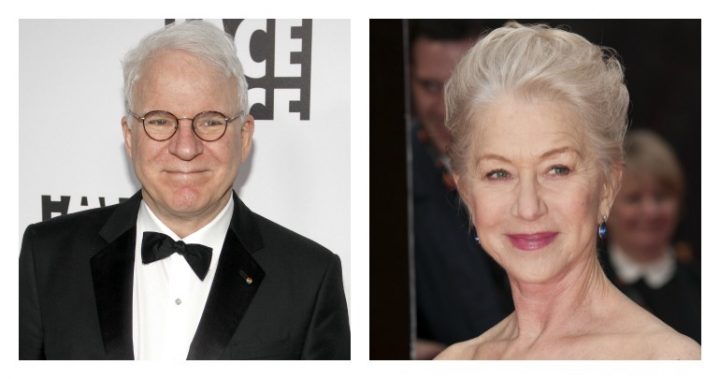 It's no secret that when it comes to signs of ageing there is a vast difference between what's deemed acceptable for men and women.
While lines on a man's face are often described as distinguished, a woman is told to invest in a jar of anti-wrinkle cream.
Men's fashion doesn't differ too much across the age range, while older women are often confronted with dowdy designs or forced to fork out more money for something more stylish.
However, the issue is most contentious when it comes to grey hair, as made clear by the online reaction to Hollywood star Steve Carrell debuting his new 'do at the weekend.
Carrell, who starred in Crazy, Stupid, Love and The Office, arrived at the premier of his new movie Despicable Me with a full head of grey hair and was instantly branded a "silver fox" by multiple media outlets and fans around the world.
Ad. Article continues below.
2017 Steve Carrell would be good to me, this I know to be true. pic.twitter.com/aTikkMAnEh

— wrecker of my joy (@buttmacklinfbi) June 23, 2017
GQ wrote they were wondering how Carrell "got so damn hot overnight", while Harper's Bazaar simply wrote, "Daaaamn" in appreciation of his new look.
The reaction is in stark contrast to how the Duchess of Cambridge, Demi Moore and others were treated when they dared to show a glimpse of regrowth.
The Daily Mail claimed pregnancy was "taking its toll" on Kate after catching a streak of grey in a close up photo of the back of her head.
Ad. Article continues below.
They also branded Moore an "ageing actress" and said she looked like she'd seen a ghost after stepping out with her greys showing.
The same rules seem to apply in the 'real world' too, with more women than men covering their greys in a bid to appear more youthful and feel more confident.
But would women feel the need to spend their hard-earned money on countless bottles of dye if the beauty industry embraced greys for them the same way they did for men?
Do you think there's a double standard here? Do you dye your hair?