Why is everyone hating on Nigella Lawson?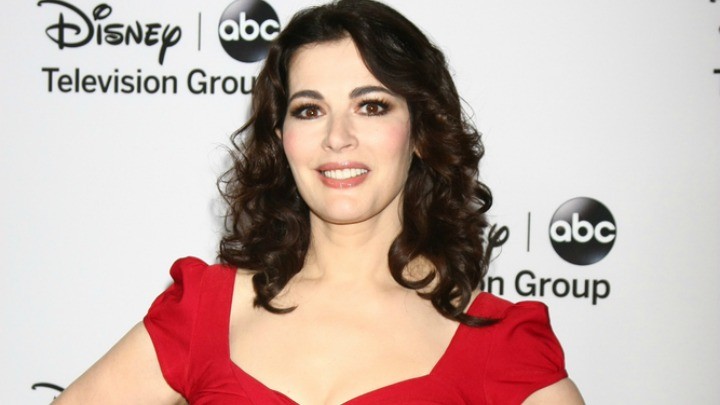 Culinary goddess Nigella Lawson has been ridiculed on social media and traditional media over a recipe aired on her new show, Simply Nigella.
The recipe in question is avocado on toast, and the problem is, well, that it's not really a recipe.
In Nigella's defence, it is very fancy avo-on-toast, far more so than the standard squeeze of lemon, salt and pepper combo. Her version includes lime, chilli flakes, dill, ginger and radishes lavished over dinkelbrot bread.
"I'm fully aware that avocado toast isn't a recipe, but it's part of the fabric of my life," Lawson says in the clip.
"I'm ready to eat it no matter what the time of day. It comes in handy for those days where lunch might be later than you'd like."
Ad. Article continues below.
However, her viewers were outraged, taking to Twitter to vent their frustration.
I'd watch @Nigella_Lawson heat up a BP garage pie #avogate #avotoast #nigella https://t.co/3gZduCMB22

— ManCard .co.za (@mancardtweets) November 3, 2015
New Nigella Lawson cookery show feels beyond parody. So far she's mashed up an avocado and looked at some holiday photos. #nigella

— Dave Harte (@daveharte) November 2, 2015
Ad. Article continues below.
coz no one else ever makes avocado on toast and calls it dinner… love you @Nigella_Lawson #avogate or no

— Kearin Armstrong (@thewinsomebaker) November 3, 2015
Poor Nigella has been criticised in the past for being out of touch with what real people eat and the ingredients they can afford to buy, so we can only suppose this is her attempt to bring it down to lowest common denominator.
The woman who once declared that one should always cook two chickens at once because a "home is simply not a home" without a roast chook in the fridge, says she wants her new show to show viewers how to make recipes that "relax and restore, uplift and enrich".
Ad. Article continues below.
Is she really doing the wrong thing by presenting smashed avo on toast? For many of us who live alone or have busy lives, a reminder of how to make a quick healthy meal can never go astray. And if Nigella says it's a recipe, then it's good enough for dinner, right?
Do you think Nigella is getting a bad rap over nothing, or should she stick to her usual decadent style of cooking?